Rogues Gallery

155 Main St., Hulett, Wyoming
Gallery: 307-467-5849
Cell: 805-400-7706
Bob's Blog

Bob Coronato in new Jared Leto Film "Great Wide Open" Episode 5 (on you tube)

Artist Bob Coronato in front of Rogues Gallery Hulett Wyoming

Frank Sanders of Devils Tower

Bob Coronato in new Jared Leto Film "Great Wide Open" Episode 5

Jared Leto's new series on National Parks and Climing called Great Wide Open can be seen on you tube.
episode 5 features Independence Day and Devils tower also known as Bear Lodge.
Artist Bob Coronato of Hulett Wyoming was briefly interviewed on "The American Dream"
Although briefly appearing in the footage Bob Coronato states "I think I'm living the American Dream,….I started out pretty poor, wanted to be an artist, wanted to paint the West,…and,… I'm living it now!"

The Episode features beautiful images of Devils Tower and the surrounding area, as well as various interviews with climbers, and individuals who like the inspiration from wide open places.
Some footage was shot on the front porch of Rogues Gallery Studio of Bob Coronato in Hulett Wyoming.

Frank Sanders a friend of Bob as well as insightful character of legend makes several appearances. Frank Sanders climes Devils Tower / "Bear Lodge" and Guides climes every day. He has the record for the most climes of the "Tower" and loves to send visitors of his bed and breakfast down to Hulett to visit the Rogues Gallery and museum of American Indian Items. The Devils Tower Frontier Museum is also Rogues Gallery and the studio of Bob Coronato. The Museum features hundreds of old west frontier items from the local region. Items include old west Cowboy, American Indian as well as art, photographs and historic items from the early western frontier.
The museum has Historic items like a carbine from Battle of little Big Horn, lots of items from the 1874 Custer expedition into the Black Hills, plus numerous beaded American Indian items from the 19th century.

---

PBS - Painting and Travel with Roger and Sara Bansemer Visit Studio of Bob Coronato 2015 - 2016

Two PBS Television Specials 2015
Painting and Travel with Roger and Sara Bansemer Etching Studio tour of Bob Coronato
Painting and Travel with Roger and Sara Bansemer Tour of Devils Tower Frontier Museum "Rogues Gallery" with Bob Coronato

The Two Programs will Air on PBS Throughout the United States:
If you have not seen Roger and Saras Painting and Travel show I highly recommend it!! Fun, interesting and always educational.
Roger a great painter,and is one of the most prolific artists I have had the pleasure to meet. Sara and Roger came to Hulett Wyoming to film a couple episodes of their Program Painting And Travel with Roger and Sara Bansemer. while in Hulett Roger sketched the front of Rogues Gallery studio of Bob Coronato as well as came inside for a tour and filmed the Museum. In the museum there are hundreds of Old West Native American and Cowboy artifacts, guns, clothing and interesting Western Frontier items. the West comes alive in front of you!
The front of the Gallery has items for sale and the back of the building is a Museum. Inside the free museum visitors can see items like : Original Carbine from the Battle of Little Big Horn, The first Forensically Tested Custer Battle Indian Sharps Rifle proven to be at the Battle of Little Big Horn, 19th century Moccasins,American Indian Bows, Arrows, Cowboy Colt Single Action revolvers, Winchesters, 1866 Yellow Boy Winchester carbines, Early Mountain Man Rifle that once belonged to a very well known Mountain Man Rufus B Sage, in the 1840's, Beaded American Indian War Shirts, Native American 19th century items of all kinds. Indian 19th century Leggings, old Tobacco Bags, Blanket Stripes, Indian Used and Captured firearms,… on and on.
There are a few displays of Prehistoric Native Artifacts including a Clovis Point 10,000 to 12,000 years old.
Most impressive is that the displays are easy to read, lots of photographs and its FREE!
Open from May through October,…best thing to do is to call just in case they are closed. 805-400-7706
Hulett Wyoming, and The Rogues Gallery Frontier Museum studio of Bob Coronato are a hidden jewel in the Black Hills and just a few miles from Devils Tower the first National Monument.

---

Bob Coronato Photographed for library of Congress by "Americas Photographer" Carol Highsmith 08-22-2015

Carol Highsmith known as "Americas Photographer" and seen in the famous Quick Books Commercial has been traveling the country documenting America.
Carol Highsmith came to Hulett Wyoming to Document artist Bob Coronato in his Studio as well as bob Coronato with the well known portrait of Russell Means.
Bob Coronato Painted a full Life Size Portrait of Russell Means in 2009 and can be seen on www.bobcoronato.com

Library of Congress archive information :
Bob Coronato 6 Rodeo posters added to Library of congress Poster Archive 2015-2016

Bob Coronato Photographed for library of Congress by "Americas Photographer" Carol Highsmith 08-22-2015
Bob Coronato by Portrait of Russell Means call number LC-DIG-highsm- 34163
Bob Coronato in his Studio Call Number: LC-DIG-highsm- 34015

Six of the Historic and vintage style rodeo posters were also recently added to the U.S. Library of Congress Poster Collection Archive. The posters for rodeos like : Miles City Montana Miles City Bucking Horse Sale, Cheyenne Wyoming Cheyenne Frontier Days, Cody Wyoming Buffalo Bill Cody Stampede, Belle Fourche South Dakota Belle Fourche Black Hills Round Up, Pendleton Oregon, Pendleton Round Up Rodeo, Sheridan Wyoming Sheridan wyo Rodeo, Deadwood South Dakota, Days Of 76 Rodeo and others were submitted to the archives in 2015-2016.

---

Cover and Feature in Rocky Mountain Horse Edition 2016 - 2017

New Article in the Rocky Mountain Horse Edition 2016 – 2017
The article starts with how Bob Coronato got to Hulett Wyoming via Friend Carson Thomas and worked on his art from first hand expierience. The Article ends with the newest development the Pittura Di Strati technique originated by Bob Coronato in 2007. The art form uses intaglio print making, oil painting and a contemporary form of silk screen in a way that was started by Andy Warhol in the 1960's but refined in a new form of art known as Pittura Di strati. The oil is applied to board in the vintage letter set style giving the work a Vintage Rodeo Poster look. The newest poster in the series is for Pendleton Oregon for the Pendleton Round Up Rodeo. Others in the series include : Vintage Rodeo Posters for Hulett Wyoming, Wickenburg Az Gold Rush Days, Belle Fourche South Dakota the Black Hills Round Up, Miles City Montana The miles City Bucking Horse Sale, Sheridan Wyoming the Sheridan Wyo Rodeo, Cody Wyoming The Buffalo Bill Cody Stampede, Cheyenne Wyoming Cheyenne Frontier Days Rodeo, and Deadwood South Dakota Days Of 76 Rodeo, and finally this year was for Pendleton.

---

Article in Journal of the Print World - "Born on the Fourth of July"

In the article in Journal of the Print World, there is a story about rodeo posters and the history. There are few rodeo posters that were printed that remain, from rodeos that were on the fourth of July. In the article it calls to the historic rodeo posters as well as contemporary. The Cody Wyoming Cody stampede rodeo poster falls on the fourth of July and is mentioned as being one of the few that the author could find. the author researches Vintage rodeo posters as well as the National Cowboy and Western Heritage Museum archives. Bob Coronato produces the contemporary rodeo posters in the Historic and vintage style using a teqnique known as Pittura Di strati. The art style was developed by Bob Coronato in 2007 and employs the use of itaglio print making, oil painting and contemporary silk screen. The final result is an original about 59 inches tall, oil on board that gets photographed, reduced and then sold at the rodeos as the official poster. Starting with Hulett Wyoming and other rodeos like Cody Wyoming Cody stampede, the Gold Rush Days, Miles City Bucking Horse Sale, Belle Fourche Black Hills Round Up, Deadwood South Dakota, days of 76 rodeo, Sheridan wyo Rodeo, Cheyenne Frontier Days and recently the Pendleton Round Up Rodeo in Pendleton Oregon.

---

Cover of and Article in "Ranch & Reata" magazine Vol. 5.2 June/July 2015

I was Honored to be asked, not only to have an article written about my work in Ranch & Reata Magazine, but they also featured one of my Chine Colle Etchings Intaglio copper plate etching as the cover. It was in the June/July 2015 Vol. 5.2. They highlighted 7 of the 8 Rodeo Posters I've done in my series of Piturra Di Strati paintings. They used the posters for Hulett Wyoming. (featuring Burch Rodeo Company), Sheridan Wyoming Sheridan Wyo Rodeo (featuring the Indian Relay Races), Deadwood South Dakota Days of 76 (Featuring Wild Bill Hickock), Belle Fourche South Dakota Black Hills Roundup (featuring Seth Bullock And the infamous Bucking horse From Burch Rodeo, Blood Brother), Cody Wyoming Buffalo Bill Cody Stampede (featuring Buffalo Bill Cody William f cody), Miles City Montana Miles City Bucking Horse Sale, and Cheyenne Frontier Days Cheyenne Wyoming. The posters are done in a vintage rodeo poster or antique rodeo poster style. Ranch and Reata magazine truly is, as it states, "The Journal of the American West". It's beautifully done. Each article is so well written and really embraces todays, and yesterdays, life of the Rancher, Cowboy, and lover of the West!

---

2015 Cheyenne Frontier Days Rodeo Poster

This is the newest # 8 of the Bob Coronato Rodeo Poster series. The poster is for the 2015 Cheyenne Frontier Days and will hang all over town for the event. The Poster started as a group of Chine Colle' Etchings a form of Intaglio Printmaking that were created by Bob Coronato. The next step was to take the Intaglio Prints and using a style of painting known as Pittura Di Strati apply the images to board and paint over to create the final look of Antique Rodeo Poster. They appear like and Old rodeo poster or Antique Rodeo Poster , but are Contemporary Rodeo posters created just for the event. In this poster Bob drew an Image of a girl riding the Roman Ride , a Cowboy Action Shooter , Trick Roper and trick shooter,…as well as a classic bucking horse like the Wyoming Logo Steamboat, steamboat the bucking horse ,.. but as a real image of a modern etching of a Bronc Rider. The oustside border has Wyoming Cattle Brands , Cattle Brands and from the lower right it starts in Ft. Worth Texas and has the old west Cattle Trail, or Texas trail known as the Goodnight loving cowboy cattle old west cattle trail. The west texas trail starts in Ft. worth area near Ft. Belknap and goes through Concho , through comanche Indian country horshead Crossing , through Mescalero Apache country Ft. Sumner , Trinidad, Pueblo Colorado, Denver Colorado , past the Union Pacific Rail Road, to Cheyenne Wyoming and all along Old West Cowboy diary entries are noted on the map. Stories from Old Blue the lead steer, Teddy Blue abbot and Charles Goodnight as well as Oliver Loving .
The trail turns from dots on a map into Texas Longhorns as the pass through the Cheyenne Frontier days header. The old west Feel of the Rodeo poster reminds people of the Frontier Days history as the Daddy of Em All,… as well as shows the more modern touch as a event of monumental porportions that attracks Cowboys And Cowgirls from all over. The American Indian Tepi Or Teepee Camp, tepi camp at the top are reminicent of Cheyenne Wyoming s colorful past. When the West was really wild, unexplored and the early pioneers encountered Plains Indians all through the wilds of Wyoming. Today at the cheyenne frontier Days the Northern Arapaho, Lakota Sioux and others perform dance expositions and story tell in the Indian Village. Vintage chuck Wagons, Cowboy Cook Offs and other events go on all through the event, and on the poster some of the events are drawn to give the flavor of Old West and Cheyenne Wyoming modern flavors. The posters will be available in town, at the Cheyenne Frontier days rodeo and Cheyenne western Art show at the Cheyenne Old west Museum.The Posters will Also be available through Bob Coronato.com Rogues Gallery in Hulett Wyoming.

---

POSTER COMMEMORATES BUCKING HORSE SALE

BY Josh Samuelson
Miles City Star Staff Writer

Fans of the World Famous Bucking Horse Sale who are looking for a souvenir other than memmories, cell phone photos – or , if you're a contestant, a few bumps and bruises – will be able to take home a beautifully crafted poster by renowned western artist Bob Coronato. The rodeo poster , which measures 18″ wide by 38 " tall, is on sale for $20. and is available at the Miles City Area Chamber of Commerce or online at www.buckinghorsesale.com or www.milescitychamber.com.
Coronato, from Hulett Wyo., was at the Bucking Horse Sale last year, taking in the festivities, when he ran into Chamber Executive Director and BHS Board of Governors member John Laney. Coronato mentioned that he would like to do a commemorative rodeo poster for the Bucking Horse Sale, and after a quick Internet search, Laney and the chamber quickly agreed.

"It was probably the easiest committee i've ever worked with" Coronato said. "Usually they're hesitant and shy about what your going to do. but they were great." Coronato has done numerous posters for rodeos around the region, including Belle Fourche, S.D., Deadwood, S.D., and Sheridan, Wyo., among others. Due to the time that goes into each poster, he does just one a year.
"I want to get to all the major rodeos in the region," Coronato said. "Ive been asked to do ones around the country, but I turned them down because I want to stay in this area."

The process of putting togeather the impressive work of art starts with some studying.
"I came to the Bucking Horse last year and hung out for a few days and got the flavor of it all," Coronato said. After getting the go-ahead from Miles City, Coronato went to work on the itricate painting. The painting took nearly four months, working seven days a week from 10 in the morning until as late as five the next morning. " I'm not real fast," Coronato said. "It's a painting, and a painting in layers. It starts with a flat board, and then texture it down with modeling paste. I paint an acrylic on that and then go over it with a silk screen to get the lettering just right, and then over that with oil paint. And all of those steps take drying times and some manipulations."

The original painting that was used to create the poster stands at 59 inches tall. "This is one of my favorites," Coronato said. " The whole event is one of my favorites. It's a lifestyle, it's iconic in a way. You're not a real bronc rider until you've done Miles City."

Laney and the chamber have been thrilled with the results of Coronato's labor. "It's a beautiful piece of art," Laney said. "It's nice to be in the mix with the rodeos that he's doing. He wants to do the big rodeos in the region, and it's cool that we got ours before Cheyenne Frontier Days got theirs."

BOB CORONATO immersed himself in the Bucking Horse Sale, then spent hours capturing its spirit in this poster

Coronato grew up in New Jersey, but his heart was in the Old West. And after graduating from art school in Los Angeles, he moved to Hulett, Wyo., (pop. 383)
Coronat has lived in Hulett about 20 years now, but when he first moved their he quickly joined in the ranch lifestyle that would be the focus of his art. "Once I went to Hulett, I wanted to get fully embeded," Coronato said. " So i went to work on ranches, branding and trailing. I was free labor for everyone in southeastern Montana, Wyoming and South Dakota. I started out painting traditional ranching scenes, but i always wanted to do rodeo posters. I waited until it was just right. I waited to get into posters until i had enough expirience, lived long enough in the area to have it just right"

That dedication is evident in his poster for the Bucking Horse Sale. The work features scenes from throught the weekend, highlighted by a rider hanging on to a bucking horse. Ther's also a scene from the street dance, and the wild horse racer being dragged through the dirt.

The BHS Board of Governors released a photo of the poster on facebook a few months ago, and there was immediate and overwhelming demand for the art. "it went wild," Coronato said. " People were calling constantly, and it wasn't even done yet. We saw it was on pinterest: it was everywhere."

The most interesting scene on the poster is at the bottom, featuring an old cowboy riding a young girl's bike, a true story from Hulett. " There was a guy in Hulett who hadn't missed a Bucking Horse Sale in something like 30 years" Coronato said. " And for whatever reasons, he didn't have a drivers license. But he was going to get to the Bucking horse Sale, so he got on a bike and started pedaling to Miles City. He got about halfway to Alzada Mt. (30 miles from Hulett) and got picked up. he never missed a Bucking Horse Sale, and its kind of a legend in Hulett, so i had to get it on there."

Coronato will not be signing posters at the sale, choosing to enjoy the weekend in realative anonymity. But he did sign the posters that are at the chamber.

2014 Rodeo poster MILES CITY BUCKING HORSE SALE

Posters will be available in the next few days and be able to ship out by Friday.

20.00 plus 9.00 for shipping to your door,…through the magic of the post office.

This is the Newest Poster in the Rodeo poster series. #6 in the series
Poster is 38 inches tall

**** The newest poster will be available at the Miles City Chamber as well as Rogues Gallery and www.bobcoronato.com
Miles City Bucking Horse Sale in Miles City Montana Is also known as the Cowboy Mardi Gras A wild event with rough stock, World Famous Street Dances and lots of fun for the real Cowboy and Cowgirls. This aint no pett'n Zoo to Quote the Burch Rodeo company of Rozet Wyoming. ,….See you there!

---

2014 Buffalo Bill Cody Stampede Rodeo Poster

This is the newest # 7 of the Bob Coronato Rodeo Poster series. The poster is for the 2014 Buffalo Bill Cody Stampede and will hang all over town for the event. The Poster started as a group of Chine Colle' Etchings a form of Intaglio Printmaking that were created by Bob Coronato. The next step was to take the Intaglio Prints and using a style of painting known as Pittura Di Strati apply the images to board and paint over to create the final Antique Rodeo poster. They appear like and old Antique rodeo poster, but are contemporary rodeo posters created just for the event. In this poster Bob drew an Image of Buffalo Bill Cody . The image is new never before drawn, yet familiar enough to seem like it was a Classic Portrait of Buffalo Bill Cody. The American Indian and the vintage Cowboy in vintage atire gives the flavor of Old West and Cody Wyoming. The overal patriotic flavor was created because the Buffalo Bill Cody Stampede is over the Fourth of July weekend. The posters will be available in town, at the Cody Nite Rodeo Cody Nightly Rodeo as well as Bob Coronato.com and Rogues Gallery in Hulett Wyoming.

---

Recently Discovered CDV Albumen photograph

Rare CDV carte de visite of Wild Bill
1873 Albumen photograph of Wild Bill Hickok
This image of Wild Bill Hickok taken by Gurney in his new york studio in 1873.
marked with his first address Gurney and Son fifth ave N.Y.
Also marked on the reverse with the photographers logo and address
All period Photographs of Wild Bill Are considered rare, this photograph of Wild Bill Hickok is one of two images that Gurney Took. Recently discovered in Germany as part of a deacession of a private museum.
Wild Bill finally made it home! ……on display in the Devils Tower Frontier Museum, Rogues Gallery.
The CDV of Wild Bill is in excellent shape with little wear.

---

Rare Albumen Photograph of Buffalo Bill Cody

Rare albumen photograph of Buffalo Bill Cody
This CDV of Buffalo Bill was taken in the 1870's by Jeremiah Gurney in his new york studio.
Most likely in 1873 Gurney and son fifth ave N.Y. photographed B.B. Cody when Gurney also photographed Famous old west Lawman Wild Bill Hickok who was traveling with Cody at the time. Wild Bill was in the Buffal Bill Cody wild west show for about a year, and then returned to life in the frontier. On Display at the Devils Tower Frontier Museum / Rogues Gallery. in Hulett Wyoming.

---
N. Plains Dentalium Necklace 19th century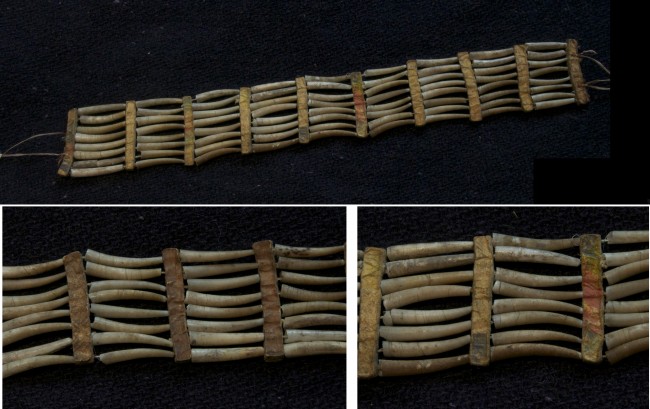 ---
Plains Knife Case and Trade Knife c. 1880-1890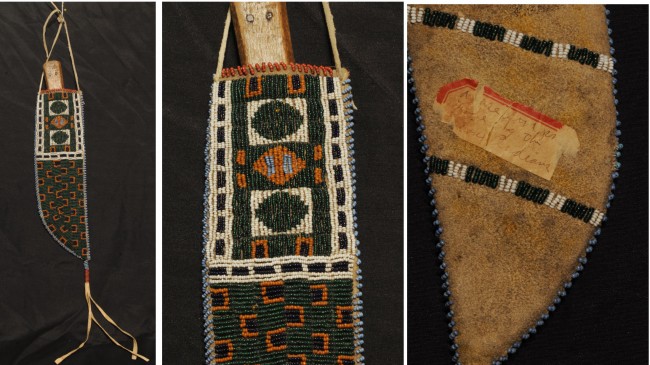 ---
Crow Parfleche Envelope ca. 1880-1890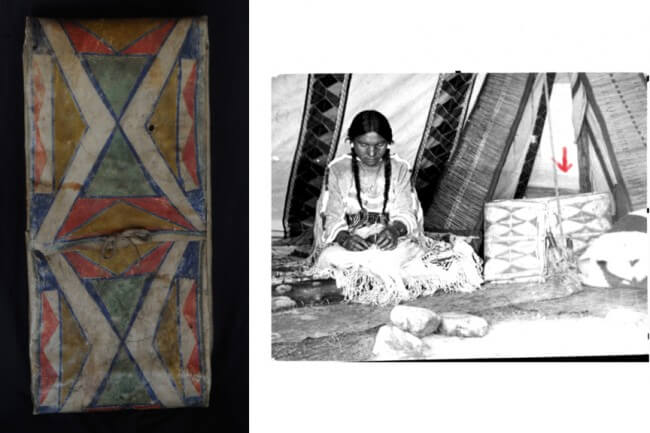 ---
Mighty Nimble Wine by Hilary Graves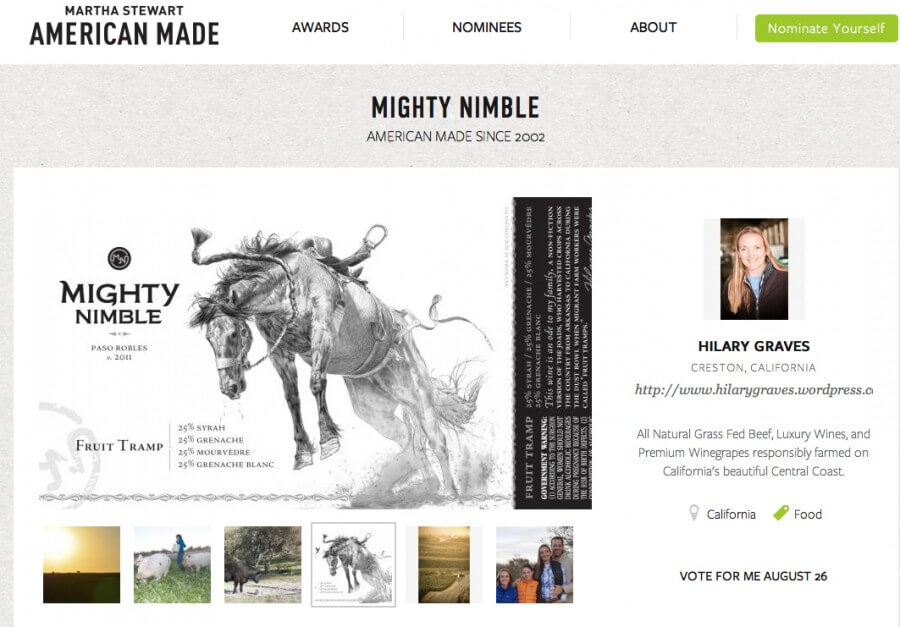 Hilary Graves New Wine Label
http://www.bobcoronato.com
Mighty Nimble wines:
a family owned and operated vineyard and winery whose goal is to grow wines that are unique, delicious, and representative of the place they were grown. Our focus is on farming and family, with minimalist winemaking practices and limited production to maintain high standards and personal involvement. In recognizing that our living is made from the land, we are stewards of environmentally responsible winegrowing methods that are holistic and which encourage a diversity of flora and fauna, increase soil health, and leave a light footprint.
Hilary"s start:
Hilary and her husband, Simon Graves, bought 10 acres in Paso Robles in 1999 while they were in college studying viticulture and enology. In 2002, when Hilary was five months pregnant with the couple's first daughter, she, Simon, and her parents planted eight of those acres in Rhone varieties. They chose to name the place Ohana, the Hawaiian word for family (Hilary grew up in Hawaii).
Fruit initially was sold to other area producers, but the Graves now keep about half of the fruit from the vineyard for their own brand. In 2002, they made their first wines with purchased fruit, and Graves Winegrowers was born. They currently produce about 1,000 cases a year. Hilary and Simon have been making their wines at Denner Vineyards in Paso Robles.
The New Label:
Hilary Used Bobs image from one of his Chine Cole' etchings of a bucking horse for her new label, "Mighty Nimble". Paso Robles is an area thick in "Cowboy Culture". It has it's roots in the quite Central Coast of California in a ranching and farming community. The region has become famous for it's outstanding wines and Hilary's wines are at the pinnacle. Bob likes to think the inspiration for the new label image is the "Mighty Nimble" bucking horse breaking free of his rider and being what nature ment him to be, wild and free!
Inspiration for the horse:
The Paso Robles wine region was once (and is still) known for it's western lifestyle and cowboy culture. Paso Robles is home to the Cattleman's Western art show which Bob has particapated in the last 11 years and was featured artist in 2009. Western art collectors from all over come to this show to enjoy not only the amazing artwork but the award winning local wines. Bob, being an ( intaglio printmaker )etcher and artist in the area, also recieved much of his inspiration from the famous California Central Coast artist, Ed Borien an early California artist from the turn of the century. Ed Borien lived in the Central Coast area and was famous for his depictions of Cowboys, Vaqueros, Rancheros Visitadoras, and early California life.
To purchase Mighty Nimble Contact:
www.hilarygraves.wordpress.com

coming soon…. www.mightynimble.com
or call Hilary at… 1-805-674-1686
---
2012 Rodeo Poster DEADWOOD
SHA'BING !!
HOT OFF THE PRESS
As promised, the new painting in the Bob Coronato Rodeo Poster Series…… DEADWOOD
I worked on this painting for about a year. The Image was created from several new chine colle' etchings that were then silkscreened down onto board and painted with oil. The new poster will be available in a few Galleries and exclusive shops throughout the Black Hills.
The antique rodeo poster feel comes from the Pittura Di Strati style of painting. The painting is acrylic, oil and Silk Screen on wood panell. Wild Bill Hickock with his guns drawn gets your attention and the aces and eights dead mans hand reminds you Wild Bill did not last long in Deadwood South Dakota.
Images of old antique American Indian beadwork , Antique western guns , old theater curtains and Lakota Sioux references are reminding of the history of Deadwood Gulch. Gold pans, card suits, Broncs and wild cowboy characters finish off the "feel" of deadwood. Deadwood South Dakota has a Rodeo every year known as the Days of 76 . The Black Hills and Deadwood are synonimous with Black Hills Gold. All of this was taken in to give the 2012 Rodeo Poster the Feel of "DEADWOOD"
The new poster is the latest in the Bob Coronato Rodeo Poster Series started in 2008. "I have been working on the series for years and the Pittura Di Strati painting style lends itself well to the vintage yet contemporary look of the Rodeo posters." "They look like a vintage rodeo poster , but they are new and I create one about every year."
Several in the series are completely sold out and the others are well on thier way. This is the latest in the series.
Some collect them because they look like an antique rodeo poster, others want a modern collectable rodeo poster from their favorite western town like DEADWOOD GULCH!
The sold out posters have consistantly brought 300. – 500. at auction when they come up for sale.
* The new poster in the "Bob Coronato series" is for Deadwood Gulch 2012 available for only 20.00 while they last.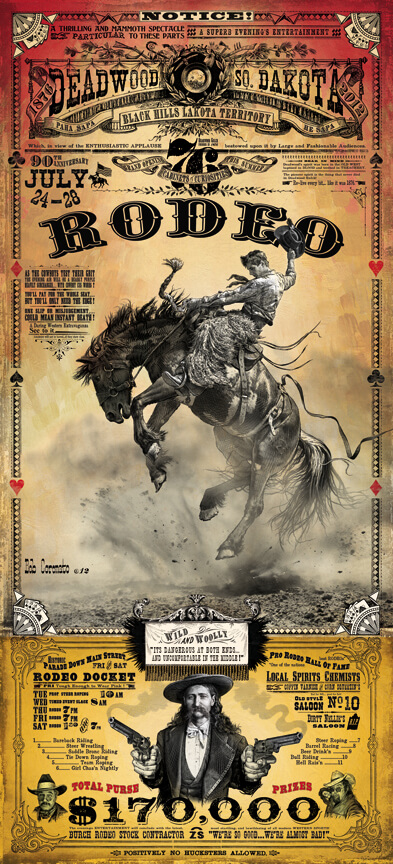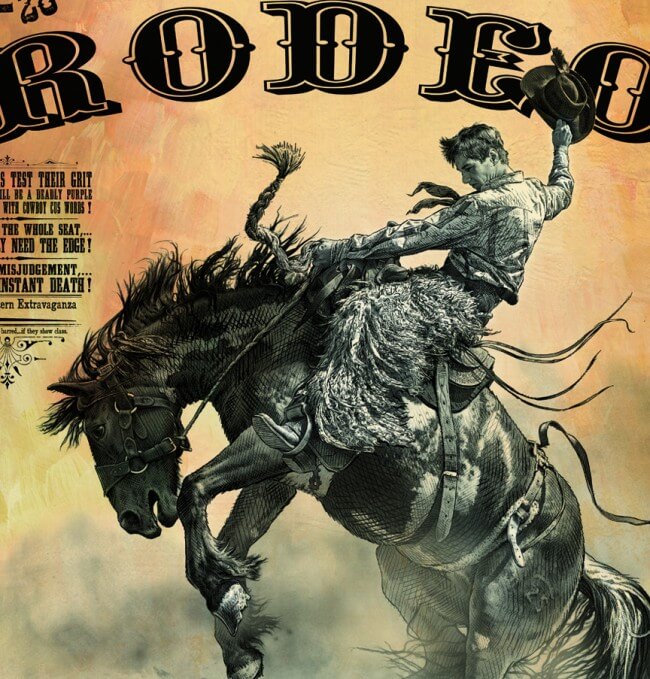 Wace Snook from Hulett Wyoming near Devils Tower takes a classic ride in an old time pair of whooly chaps as he has in many exibition rides. He grew up riding bronce and he seems comfortable on Max burch rough stock. The quarter circle Z S is infamous for great rodeo stock and the legendary bucking horse Blood Brother. Max Burch Rodeo is the stock contracter for the Days of 76 Rodeo.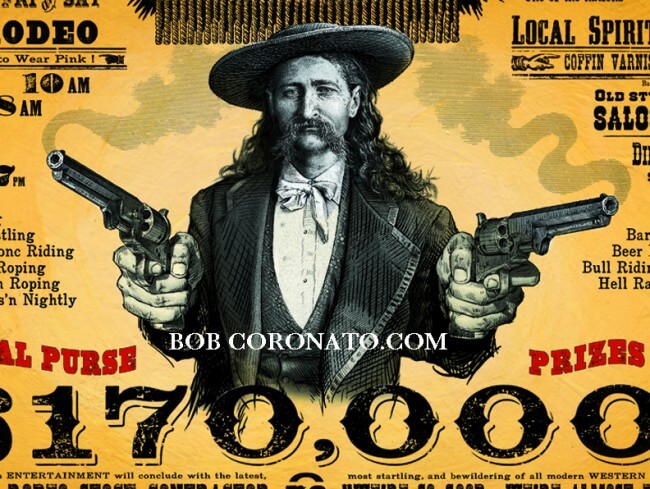 About the Image:
At the 2012 Deadwood Days of 76 Rodeo, Max Burch supplied the rough stock. locally his horses have been always known as some really rank outlaws. Burch's P.K. Ranch, has hundreds of horses on his large ranch covering several hundred thousand acres. In the 1990's Max would gather up his four year olds that had never been ridden and bring them to Jim Wilsons ranch in Ridge Montana. People would pull their trucks into a circle and have a ranch style rodeo, a good o'l bronc match. These horses had barley ever seen people before, being mostly wild, and the bronc match became one of the wildest rodeos most had ever seen. Every June for 10 years they bucked out over 50 head, the only hard part was finding enough cowboys to ride them all. It was like the early days of the west, but took place in the 1990's. As you looked out across the prairie there was not a house to the horizon in any direction. With a cold wind blowing over the plains, wild horses, and mostly local cowboys, it was like going back in time to the earliest days of rodeo. The horses that bucked wild became rodeo stock, those that didn't buck as hard became ranch horses, or were just set back out on the range. Since those days, Burch Rodeo horses have become legendary and many broncs have been chosen for the finals in Las Vegas year after year. Supplying some of these horses to the Deadwood Days of 76 Rodeo, Burch Rodeo is sure to supply every bit of what is expected at this historic Pro Rodeo Hall of Fame rodeo.
The Bronc rider in the poster, is Wace Snook a local cowboy from Hulett Wyoming, and locally one of the favorites. Wace is a pure class act, with an old time flair to his dress. I remember a story about Wace from when he was about 10, he went to Max's bronc school to learn to ride. legend has it, that Max said you have to be at least 12 years old and 100 pounds. Wace wasn't 100 pounds wet, but said "I'm 12 years old and 100 pounds", the rest was history. I've always wanted to draw a bronc rider wearing woolly chaps but since that hardly ever happens anymore, it was not looking to good for me. I've always drawn or painted from real life, people I know, and places I've been. I wanted to draw someone wearing woollys, and wanted to see it or it just wouldn't be real. Finally along came Wace, on many occasions he rides with woollys. Of course it's usually at a "wild ride" or an exhibition ride, where its legal to fan the bronc and ride a stock saddle. Sometimes a little pink or purple chalk in the woollies helps, it always livens up a crowd to see the chalk puff out of the chaps. Every time the horse bucks with a cloud of chalk dust, the crowd hoots out cheers. The Towns around Deadwood and the Black Hills are still a living "old west" with all the flavor of the old days if you look for it. Just about a week ago Wace rode his horse into the Ponderosa Saloon in Hulett and packed out the bartender. Monty Neiman said to me, "Bob, I've got a title of your next painting,……I said whores, not horse!" and everybody laughed.
Wace, always being a class act, made sure his horse had a drink too before he rode out the side door!
As I created the imagery for the poster border, I took into mind many things important to Deadwood and the Black Hills during the Days of 76 rodeo. I put "Lakota territory" on the banner because technically the Black hills are still legally Lakota land. Paha sapa and He Sapa are Lakota for Black hills. In Lakota one is when your "in" the Black Hills and one is when your "looking at" the Black Hills. The coup stick with honors and gunstock war club give a taste of the early days and the Lakota warriors that roamed through these sacred hills. Those that live here can attest that the spirits of the Lakota that have changed worlds, still roam these hills. The flavor of Deadwood has always been mining, gambling, brothels, theaters, saloons, and "just plain wild".
I drew all the little things that reflect the flavor of Deadwood. Looking close you will see old theater curtains, gold pans ,Plains indian arrows with iron trade points, 1851 navy colt, and ponderosa pine boughs. Tucked away like relics of the past, an old time rifle, powder horn, and a tin panner's tools of the trade. The Spirit of Deadwood really never died in the old west. The hundreds of people experiencing the "odd things" in Seth Bullocks haunted hotel are just running into the gamblers and restless pioneers that still roam Deadwood. Hell,…it's too much fun to just leave it, even after you cross over.
Deadwood has always had its host of characters in the past and the present. People that imbue the west like, Big nose george, Potato Creek Johnny, Poker Face Alice, Wild Bill, Calimity Jane, and Pam from the infamous Pams Purple Door. The characters I added to the bottom are a couple local guys born in Deadwood. On the left you have Saddle maker Carson Thomas, and on the right Tom Waugh, a local charter, hell raiser, and all around nice guy. I included Dirty Nellies Saloon because it was such a local classic. Even after the closing of this good time place of music and spirits, people morn. Years later in 2012 they had grave side rights with bag pipes and drinks served along with "relics" from the o'l bar for remembrance.
I used the card suits as a border for a couple of reasons. First to give flavor of this favorite cowboy/card-playing town, and second Wild Bill, the notorious western lawman, gambler, and lighting fast gunfighter who was killed in Deadwood. Wild Bill was shot from behind playing poker in Nuttal and Mann's Saloon Ten. Bills last cards he held were aces and eights. His last hand has been known ever since as "the Dead-mans Hand" and is incorporated as the corner pieces. The saloon he was killed in was also the saloon I met my wife, so above Old Style Saloon Number Ten , I wrote "bad for Bill, good for Bob".
This series of rodeo posters are some of my favorite work. Trying to keep them contemporary with an old time feel and yet they still drip with the flavor of the area they come from is my personal passion. Being a print maker and having a fondness for the old time letter press printing, I try to include all the details of that style of printing along with the modern images of friends and the local western flavor. Most people think they are Antique rodeo posters or based on vintage rodeo posters but they are not.
After spending about a week or two hanging these all over the Black Hills, I was finding as soon as they hung up, they were being stolen from every window and bar that had them. As fast as I could hang them, they were missing a day later. I walked up the street hanging them in Deadwood and by the time I reached the end five were missing. Ive been told it was the most popular poster they've ever had, but I get the biggest compliment every time someone steals one.
All Rights Reserved to the Artist.
Bob Coronato Hulett Wyoming
---
World Champion Indian relay races
The grandstands at Sheridan's WYO rodeo fill early, long before regular rodeo events begin, welcoming a crowd that's gathered to watch one of the wildest, most colorful events in all of equine sports. A favorite at powwows and Indian rodeos, the sport of Indian relay racing is a crowd-pleasing spectacle that involves expert horsemanship, teamwork, and the potential for disaster at every turn. The excitement mounts in the stands as the begging of the Sheridan/Wyo rodeo begins, because the first event and crowd favorite is the World champion Indian Relay. Newcomers to this rodeo quickly find themselves caught up in the moment, and the Indian riders and family are excited for the honors won during this race and a hefty payout of 25,000. Indians from all over squash themselves up against the rails to get a close view of the race, and cheer on the riders.
The rules of Indian relay racing, are generally simple, All races are ridden bareback, and teams are composed of four people and three horses. Team members are usually all from the same reservation, and often are members of the same family. Any breed of horse may be entered into the race, years ago saddle horses were raced, but thoroughbreds are todays most common breed. Many are retired racehorses from the horse racing industry. Only one team member competes as jockey, riding all three horses in succession. Sheridan/Wyo is the only relay thats called traditional, because all the riders wear traditional, or as close as they can, traditional native dress. Another team member serves as the "mugger," catching each finishing horse as the jockey dismounts. The other two team members are "holders" who try to contain and quiet the second and third horses along the arena rail until it's time for their turn to race.
John Mark Skunkcap from Idaho's Shoshone-Bannock Reservation, one of the jockeys, is dressed in beaded buckskin moccasins and a buckskin breechcloth, with his forehead painted red and a porcupine roach atop his head. As part of the Mountain Timber team, each horse is adorned with hands prints, circles, or lightning bolts painted on its legs and bodies in the colors of there team. Ashton Old Coyote from the Crow reservation, and a long line of warriors, is also a crowd favorite with lines of paint going down his face and long traditional Crow braids. They are just a few of the many others that are from long lines of warriors and amazing horsemen. All this history lends to the greatest event of horsemanship I have ever seen. each year I drive two hours just to go to the race,…I turn around and go home never bothering to see the rest of the rodeo. I drive back every day four four days. I have never bothered to stay for the rest of the rodeo, lets face it, I have seen a 1000 bucking horses, and seen hundreds of guys throw a rope,…but you have never seen anything like this!
The introduction by Kennard Real Bird from Crow, is worth the drive. It is usually full of jokes, history lessons on how the Indians beat General Custer real bad, just down the road and he usually throws in a few off color remarks just for fun. The crowd loves it and the riders get excited. Kennard starts off " This is a bunch of wild Indians,…wilder than a bunch of drunk irish white people in a bar in Boston" At a gunshot each jockey leaps aboard his horse and races off past teepees that line the track. A plume of dust rises in their wake. The excitement ramps up as contestants complete the first lap, and by crossing the starting point, leap to the ground, and attempt a quick leap aboard their second horse. Some riders just jump in the air from one horse on to the back of there next mount. As the horses rears up on his hind legs, with a jump he is off down the track. The second and third horses are no longer standing quietly, but jumping and rearing from the excitement and noise around them. Add to all this excitement, the unsuccessful transfers—riders sprawled face down in the dirt of the track or clinging to the side of a horse in a struggle to stay aboard—and it's easy to see why Indian relay racing is the Sheridan / Wyo crowd pleaser and my personal favorite all time event.
In 1931, the small town of Sheridan, was so quiet you could "shoot a shotgun down Main Street and have no fear of injuring anyone." A group of local citizens wanted to do something about the situation and decided to put on a rodeo. Since then,… "There's been a tremendous reception to Indian relay racing," says Cynde Georgen, Superintendent of the Trail's End State Historic Site in Sheridan. "Back in the 1920s they had the Indian relay races here and everybody would flock to town for the races. Since they started having them again at the Sheridan WYO Rodeo, it has really revitalized the rodeo." One spectator in Sheridan observed that Indian relay races have boosted local rodeo attendance, having become "the biggest draw for the rodeo." And what's more American than cowboys and Indians?
I decided to paint the rodeo poster for the 2011 Sheridan/Wyo rodeo and as I sat at the trading post of Putt Thompson overlooking Crow, I sketched out exactly what it was going to look like.
I spent 7 years prior, trying to get just the right three riders that would describe best, the event. I went there every year until I had a good idea what it should look like. I also felt it was a great time to put a Indian subject as the main event on a rodeo poster. I felt this would be a real eye grabbing subject and was after all the only reason I drove two hours just to see the race. I was guessing others were as well.
While the exact origins of Indian relay races are blurred by time, Floyd Osborn, a former jockey who is part of a family with a long history of racing horses, says the practice of riding horses in relay sequence may have originated as a way of quickly getting messages of approaching enemies back to tribal leaders. The earliest competitions are believed to date from early rendezvous involving Indians and mountain men in such places as the Green River and Wind River in Wyoming. Osborn, who was born at Fort Washakie on the Wind River Reservation in Wyoming and grew up on Idaho's Shoshone-Bannock Reservation, is the great-grandson of an Englishman who imported horses from Great Britain. Some of that bloodline remains in Osborn's string of horses today, and Osborn's family was among the first to use thoroughbreds in relay racing. He's seen a number of changes over the years. "It's a lot faster," he says about racing today. "The high-powered horses we have now come right off race professional race tracks.
Indian relay racing is a young man's sport, its fast and dangerous. Tone of the mountain Timber team, recently turned the riding over to his own son, John Mark Skunkcap. He raced in Sheridan with nine stitches in his leg from an earlier race, and still carries scars after getting rubbed on the rail in Pocatello a couple of years ago. "The biggest problems usually occur during exchanges when you're going out and someone else is coming in," Tone is the team leader and paints John Mark's face in preparation for racing events. He also runs practices when the team isn't competing. "Every day we ride our horses in our field or take them to the track, We practice coming in on them and taking them around the track." The routine also involves work on jumping off, jumping on, and other maneuvers." Tone says he feels fortunate to have raced for quite a number of years with no broken bones, although he admits to some pretty good bruises.
Injuries do occur and, as in rodeo, the possibility of a wreck adds to the intensity level. One 16-year-old jockey did suffer a broken ankle during the Sheridan rodeo last summer when a horse reared over backward and fell on him. Another memorable event for me was when a rider got knocked unconscious and was amid the running horses as Kennard Real Bird held the microphone, and loudly said, don't worry about that warrior, he's a tough Indian and has a little extra padding,…from sitt'n around all winter on the sofa eating cheese doodles and watching pornographic dvd's" The crowd hurled a belly laugh, as the rider laid face down knocked out. As he quickly gets dragged off the area floor by a medic crew, fans are witness to a controlled chaos of horses barreling past each other and weaving in and out with riders leaping on and off horses bareback, all amid the calamity, that goes with having 21 horses and 28 team members all on the same track.
Historically many of the Plains People considered the horse an extension of the warrior himself, and showed this by decorating the horse with medicines and visionary paint markings. This relation between man and horse was so closely connected that the protective paint marks were often shared by the horse, the warrior and his shield, and his lodge. Horse medicines could even be used as war charms. Symbols of lightning were painted so others could see and fear that the warrior had a vision that he had been given lightning power.
On the high Plains hail makes every thing cower in the wake of the storm. In Wyoming and South Dakota, summer thunder storms will often drop golf ball to baseball size hail putting fear in everyone in its path. The early people of the high plains understood the fear this had in the mind of an enemy and horses were often painted with hail or lightning.
A friend of mine Mike Cowdrey recently wrote in the book Native American Horse Masks:
"the painting and decoration of a horse shamanically masked a prey animal into a predator and making it an inviolate, symbolic link between warrior and cosmos. Imbued with magic, the warriors steed now rode with the power of thunder, and lightning. The visionary power of the shaman transformed a beast of burden into a lethal engine of war."
Similar to years ago, the people of the Northern Plains Nations still paint there horses on special occasions with the same symbols passed down by there ancestors.
Each Summer, in Wyoming, the Indian people paint there horses during the World Championship Indian Relay races. Symbols of power are used on there "war ponies" in the race. Every year during the Indian relay races, a holy man or elder will paint a riders horse with marks of power and for others to fear. Today, just as years ago, the horse and rider are painted with the same marks. Parallel lines for coupe marks, dots for hail, a circle around the eye to improve the animals vision, and often large zigzags for lightning.
The races are spectacular demonstrations of the best horsemanship in the world. The bareback warriors grasp to there horses, in a race for honor, in a spectacle like few have seen. My jaw is agape every year I go.
While filled with the danger inherent in any Indian relay event, Indian relay racing keeps alive something less dramatic but no less vital—a direct link to Native American traditions and heritage, and an important point of connection among families.
Bob Coronato
All Rights Reserved to the Artist
---
New Video Pittura Di Strati
Being an intaglio print maker and an oil painter for many years, I have been working on combining the two mediums for nearly 8 years. The Pittura di strati medium of silkscreen, oil and acrylic, is the only way to achieve the effect that I was looking for.
I created this Painting using a technique know as Pittura di strati . As I start, the board is covered and then textured with thick gesso. Multiple layers of acrylic paint are applied, and on top of the acrylic, silk screened line work. Layers of translucent oil paint are slowly built up one layer at a time. Oil Paint has and the ability to create fine glazes, transparent but slow to dry. As each layer builds up, they create effects of light and texture not possible with other painting techniques. This glazing technique is very similar to that of the artists of the Italian Renaissance, giving the paint a luminous quality that is not possible any other way.
Being an intaglio printmaker and an oil painter for many years, I have been working on combining the two mediums for nearly 8 years. The Pittura di strati medium of silkscreen, oil and acrylic, is the only way to achieve the effect that I was looking for. I wanted to explore the age old tradition of silk-screen with the cutting edge techniques that are currently available, along with the drawing and imagery from my etchings. By layering translucent glazes of color in oil, I was able to get a look that I was searching for.
Andy Warhol used a similar but more crude technique in the 1960's to create mixed media work that was also a multiple using Silkscreen. Today the end results can be much more refined than at that time. As I combine the painting mediums and the dozens of translucent layers of Oil paint the technique refines the work to a unique style of painting never done previously. Because of all the variables in the layering, glazing and varnishing, each painting in the series is unique and can vary in color, texture, etc. Similar to the bronze method of producing art, the end result is the original intention of the artist, and all the steps through the process, are the only way to get to the end finished piece.
I will only paint a few of each image and no more than 15 will be done.
Bob Coronato
---
C.M. RUSSELL MUSEUM AUCTION 2012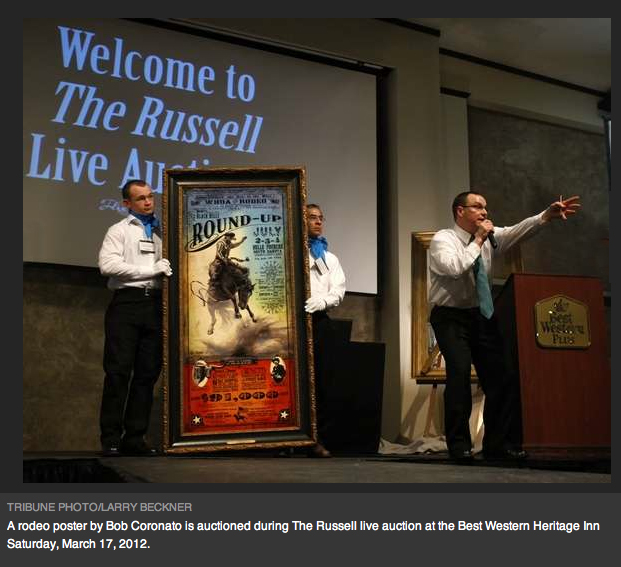 *Photographed above is Bob Coronato s piece being auctioned off at the Charles M. Russell Sale and Benefit Auction Sat. March 17th, 2012.**
March 16-19, 2012 was the annual C.M. Russell Sale and Benefit Auction for the C.M. Russell Museum in Great Falls Montana. Coronatos piece this year is his Pittura Di Strati original mixed media, used for the 2011 Belle Fourche, South Dakota Round Up Rodeo. The rodeo poster piece sold for above auction estimates with the hammer price included.
(Below is clipped from an article written about this years auction in The Great Falls Tribune. Written by Richard Ecke)
"All eyes were on The Russell: the Sale to Benefit the C.M. Russell Museum live auction Saturday night to see if three original Charlie Russell watercolors would sell for $200,000 or more each.
All three did. Two Russells, "Waiting for Her Brave's Return" and "Roping a Steer," each fetched a price of $375,000, while a third Russell watercolor, "Indian on Horseback," received a high bid of $300,000 during the auction at the Heritage Inn. Combined, those three Russells produced winning bids of more than $1 million.
The Great Falls museum that bears Russell's name benefited from the sale of his works Saturday night, and officials were downright cheerful after the buying frenzy, which often was punctuated with cheers.
"This is going phenomenal," said Channing Hartelius, secretary of the Russell Museum's board of directors.
Bidders also went wild for other Russell originals. "The Bucker," part of a group of Renner family estate offerings that also included one of the $375,000 pieces, sold for $60,000. Then the buyer agreed to donate the watercolor to the Russell Museum, board Chairman Joe A. Masterson said.
In addition, a watercolor and pen-and-ink called "Center-Fire Man on a Bronc," estimated to sell for up to $45,000, instead went for a whopping $170,000 to the Smith's Fork Land & Cattle Co. of Robertson in southwest Wyoming. Other buyers of big Russell pieces declined to be named.
"It was absolutely a wonderful tribute to (Russell expert) Ginger (Renner)," Masterson said of the sale of the Renner estate pieces. "A Bunch of Riders," a pen and ink also among the Renner items, sold for $100,000 — double the pre-auction estimate.
Gross sales from Saturday night's nonprofit museum auction were in the $2.75 million range. This preliminary auction total does not include the 10 to 13 percent buyer's premium, which should push the total over $3 million.
The Paddle Raise for Education netted $150,000, 100 percent of which goes to Russell education efforts.
It was hard to find anything to be disappointed about during the Saturday night money-maker for the museum — and officials were beaming, even if they were exhausted by all the preparations and the hectic nature of the event.
"The market's up," auctioneer Troy Black said at the beginning of the night. "There's a good buzz in town."
He was right.
---
New Painting November 2010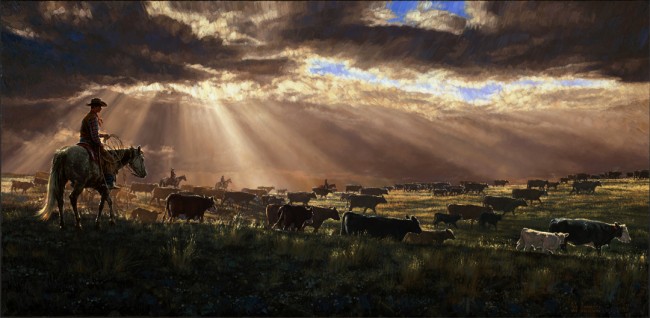 Oil On Canvas
Size 16 3/4 X 34 3/8
Artist Bob Coronato 2010
Title: "An unhurried sense of time,… is in itself a form of wealth"
Back in the early 1990's I was working on the IPY ranch in North East Wyoming just outside Devils Tower national Monument. I was sleeping above the "Stockman" mercantile and saddlery in Hulett and had a small studio upstairs. I would get up, grab my rig and drag it down the worn out old wood stairs, and throw it in the back of my outfit. It was cold, dark and the little town of 429 people was completely still. As my frosty breath steamed up my windows, I would drive out to the ranch around 4:30 am.
to read more go to the "Painting" section and scroll down
Even the saltiest and weathered old time hands had to take pause and enjoy this moment of beauty that made today, one of the good 'ol days of tomorrow.
Bob Coronato 2010
The new painting by Bob Coronato will be shown at the November show at Settlers West in Tucson Arizona.
Find out more…
The Great American West – November 20, 2010
click here
Settlers West Gallery announces its annual Great American West exhibition on Saturday, November 20, 2010. Howard Terpning, William Acheff, Ken Carlson and Francois Koch are among the 58 outstanding artists exhibiting new paintings and sculptures in what is widely regarded as the Southwest's premier fine art showcase
For more than 35 years Settlers West Gallery has specialized in showcasing only the finest in Western and Wildlife art. Our fine art gallery in Tucson, Arizona is host to many of the world's premier artists. Our shows feature works by Howard Terpning, Daniel Smith, George, Molnar, Robert Griffing, Francois Koch, William Acheff, John Fawcett, Michael Stack and many more of today's masters.
---
New Article About Artwork by Bob Coronato
New article from The Bozeman Magpie
Recently an article came out in The Bozeman Magpie about my work.
You can read more about the article in the press section of the web site.
---
Russell Means
I was recently at the sun dance at crow dogs paradise on Rosebud in August. I heard Russell Means name brought up by Leonard Crow Dog but the rest was in Lakota. I asked someone what he said and it was that he was sick and they were praying for him. This article just came out in the Rapid City Journal and tells more of the story. I think we all should join the prayers from all over the world and pray for Russell, a true modern day warrior that fights for his people, beliefs and human rights of the Lakota.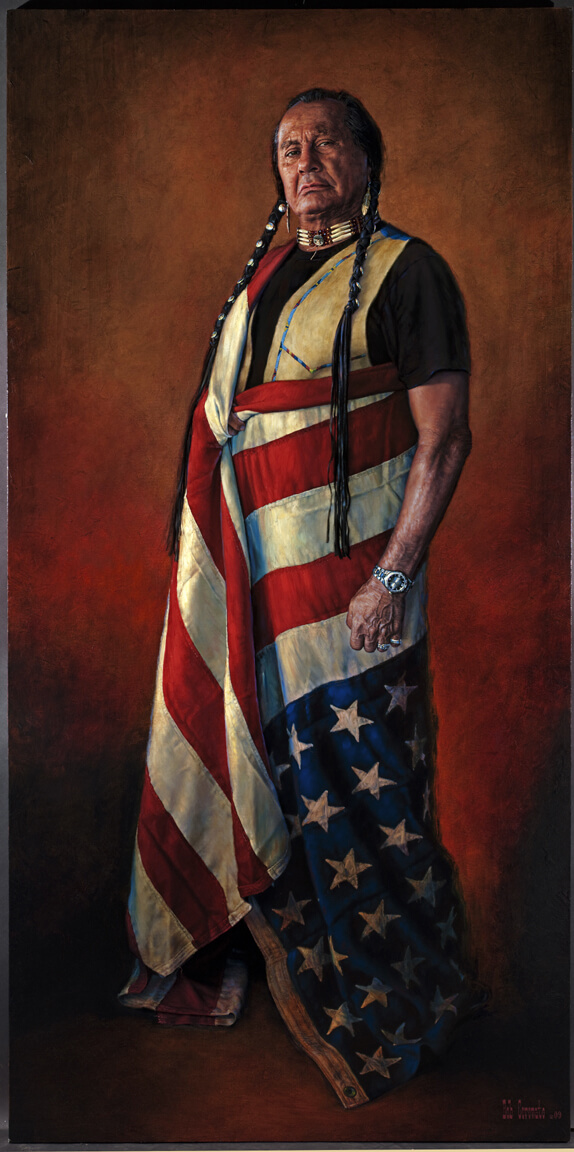 Activist Russell Means fighting esophageal cancer
Rapid City Journal Aug 18 2011
PORCUPINE – Russell Means has looked death in the face before.
The former American Indian Movement leader counts nine assassination attempts on his life. He has survived danger, violence and numerous encounters with mortality — from the 1973 Wounded Knee occupation to guerilla wars in Nicaragua — in what he calls his "72 winters" of life.
But these days, the fiery 71-year-old activist turned actor is fighting a new and deadly foe with a different face: cancer of the throat — or esophageal cancer — that has spread to his tongue, lungs and lymph nodes. Doctors told Means last month that the cancer is too advanced for surgery.
Even if surgery had been an option, he would not have chosen it, Means said, since it meant removing his tongue and losing the ability to speak.
There are, he says, some things worse than death. Russell Means without the ability to voice his opinion may be one of them, he said.
He dismissed other treatments offered by mainstream medicine as well — heavy doses of radiation and chemotherapy that would also leave him unable to taste, speak or swallow normally.
"I'm not going to hang on to life under those conditions. No way am I going to hang on for that," he said during a recent interview in the front yard of his ranch home near Porcupine. Those medical realities along, with other side effects — being fed through a tube and being confined to a wheelchair by extreme fatigue — were "unacceptable options," he said. "To me, either way that's a death sentence, or at least a torture sentence."
One month after his dire diagnosis at a University of California medical center on July 18, Means is turning to the indigenous medicines and spiritual healing ceremonies found throughout the North American Native American culture — the same culture that he has spent a lifetime trying to preserve.
Means said he will battle the disease with traditional Native remedies. Herbal teas and other plants with cancer-fighting properties have come to him from tribes as far away as Guadalajara, Mexico, and as close as the Ojibwe tribe in Minnesota. He is also receiving cancer treatments that are approved in Europe and Canada but not in the United States at an alternative cancer center in Scottsdale, Ariz.
The charismatic and controversial Means never shrank from a political fight, but he is taking a philosophical approach to the grim news about his health. He knows his prognosis isn't good, and he has made his peace with that.
"I'm not going to argue with the Great Mystery," he said. "Lakota belief is that death is a change of worlds. And I believe like my dad believed. When it's my time to go, it's my time to go."
The toll the cancer has taken on his body is evident in his speech, which is increasingly subdued and more difficult to understand. The man who drew media attention around the world and Hollywood acclaim for his role in the film version of "The Last of the Mohicans," has been replaced by a shorter, slighter man who struggles to keep weight on.
Gone, too, are the signature braids that hung in parallel tracks down his chest and marked Means as a modern-day Lakota warrior, who is loved by many and vilified by others. But in every media photograph taken of him since he and Dennis Banks burst onto the national scene as the public face of AIM back in the 1970s, the braids are there.
The Lakota believe that hair holds memories. People in mourning often cut their hair as a way to release those memories and the people in them to the spirit world. Means cut his braids off shortly before he knew he had cancer, as a symbolic gesture to show that he was in mourning for his people.
"That's the first irony here. I cut it because my people are dying — they're dying as a culturally distinct people," he said.
But whether his hair is worn in long straight braids or short, curly and covered — as it is on a recent sunny afternoon in a stylish straw fedora — one thing has not changed in Russell Means' world. His devotion to his causes and his passion in promoting them is in no way diminished.
Means doesn't hesitate when asked what the most important accomplishment of his life has been: The founding of the Republic of Lakotah, he says, and the "re-establishment of our freedom to be responsible" as a sovereign nation inside the borders of the United States. His efforts to have his proposed country recognized by the international community continue at the United Nations, he said, even as it is ignored by tribal governments closer to home, including his own Oglala Sioux Tribe.
"I live in the belly of the beast," Means says, midway through one of his enthusiastic political polemics about the economic, moral and constitutional collapse of the United States.
Always a polarizing presence for the U.S. government, Means plans to remain so, perhaps even after his death.
"I've told people after I die, I'm coming back as lightning," he said. "When it zaps the White House, they'll know it's me."
As part of his vision to create Lakotah, Means started the Treaty School, an immersion-language school for young children in a three-story prototype of an oversized Lakota tipi on his property. The structure remains unfinished, and the school never grew beyond a handful of students.
"Because of our poverty, that ultimately failed," he said.
People couldn't afford gas to bring their children to school, much less tuition, he said.
"We're losing our language, and nobody cares," he said of a cultural reality that he sees as the biggest disappointment of his life.
His advocacy and acting have taken him to every continent except Antarctica — a place he has no interest in seeing, he said, despite his love of South Dakota's winter weather.
"A South Dakota winter is my favorite season," he said. "My people are energized in the winter. I am energized by it. You have to be to go out in it."
Now, he said, he's content to enjoy his home on the Pine Ridge Reservation. It sits at the end of a deeply rutted dirt road outside the village of Porcupine, just a few miles from the site of the Wounded Knee occupation, where his reputation as a law-breaking champion for Native American treaties and indigenous people's rights was cemented.
He bought the acreage 11 years ago with money earned mostly from an acting career that included more than 30 films and television appearances. He shares it with his wife of 12 years, Pearl, 15 or 20 horses and an abundance of wildlife.
"It's beautiful, as you can see. Very peaceful. This place is a game refuge," he said.
After rumors of his health problems surfaced on the social network site Facebook, Means opted to confirm the reports in a video that has been posted to YouTube. Response to that video has been overwhelming, he said, as people call or email from all over the world to tell him they are praying for him.
"So, if I kick cancer, it's going to be because of prayers and indigenous medicines — and some German/Canadian alternative treatments," he said.
One of those prayers comes from his old friend and fellow AIM member Dennis Banks.
"He just called me. We're going to get together in a couple of weeks," he said.
Means suspects his detractors and critics, of whom there are plenty both on and off the reservation, will "rejoice" at news of his health problems.
Criticized by some of his fellow Native Americans for self-promotion, he is viewed with disdain by many law enforcement agents and others for the violence that often followed his protests.
He hasn't bothered to write his own epitaph, and he doesn't care what people say about him.
"If I cared what people said about me, I wouldn't be who I am," he said.
He chuckles, though, recalling a Los Angeles Times story that described him as "the most famous Indian since Sitting Bull or Crazy Horse."
"I thought Jim Thorpe was," he said with a grin. "Jim Thorpe was my hero."
Russell Means: A look back
1970s
Becomes a national media spokesman for the fledgling American Indian Movement by confronting costumed Pilgrims during a Thanksgiving re-enactment in Plymouth, Mass.
Organizes a protest rally in Gordon, Neb., over the death of Raymond Yellow Thunder, which resulted in manslaughter indictments against two men.
Is arrested along with 80 other people in the 1973 Custer County Courthouse riot, eventually serving one month in jail for his role in it.
Organizes the 1973 Wounded Knee occupation with Dennis Banks and Leonard Peltier, a 10-week siege which made AIM a household word in America. A judge dismisses federal charges against him during a lengthy trial.
Is acquitted of murder charges in the 1975 death of a man in a barroom brawl.
Loses a close election for the presidency of the Oglala Sioux Tribe to Dick Wilson.
1980s
Joins a U.S.-backed indigenous tribe in Nicaragua in its war against the communist Sandinista government, causing Means to quip, "I fought the capitalists and I fought the communists."
1990s
Launches a successful acting career with his role in "The Last of the Mohicans," eventually appearing in at least 32 movies and television shows, including Disney's "Pocohontas" and Oliver Stone's "Natural Born Killers," as well as "Curb Your Enthusiasm."
Publishes his autobiography, "Where White Men Fear to Tread."
Releases two albums of original music.
2000s
Ran unsuccessfully for president of the Oglala Sioux Tribe, losing to Theresa Two Bulls.
Launched the Republic of Lakotah, an attempt to reassert the original land claims of the sovereign Sioux Nation by withdrawing from the 1851 and 1868 treaties with the United States.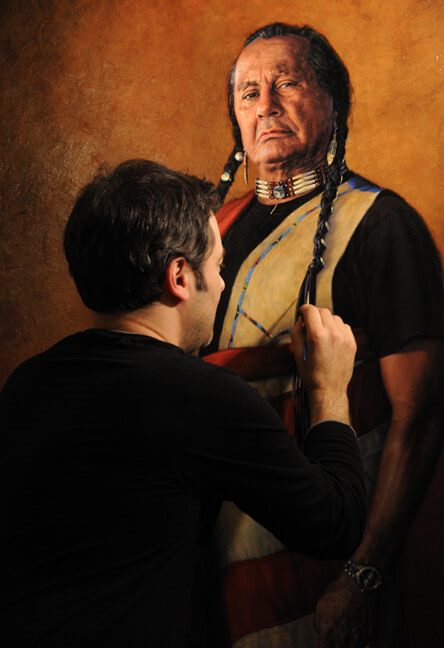 Title: Russell Means
Lakota name: Oyate Wacinyapi "Works for the people"
"An upside down flag is an international signal of distress… now we, the Indian nations, are in distress. I will wear this flag upside down as long as my people are in distress!" R. Means
by Bob Coronato
size 36 5/8 74 1/4
Oil on Canvas
I have been researching and planning this painting for over 10 years. I First heard about Russell Means when I moved into the Black Hills and learned how much controversy there was around him in the "Hills". There were some that viewed him negatively and there were those that held him as a hero. I wanted to learn more for myself because it was a dramatic chapter in the history of the west that took place in my lifetime. With the rise of AIM, the American Indian movement, was critical in changing the lives of many. The armed Siege of Wounded Knee in 1973, was truly the last of the Indian Wars, and Russell and several hundred others along with him, fought the Government in a armed stand off, prepared to die as free people, just as there ancestors had.
I was inspired 15 years ago by my best friend, and artist Tom Waugh, who talked about Russell Means, Dennis Banks, The yellow Thunder case and all the different American Indian Movement activities. Tom was closely related to that time because he was married at the time to a woman that was Sioux and involved with AIM, and he was the chief of police at Hot Springs at the time of AIMs rise. He had valuable insights into both sides of the conflicts, and protests. Tom was First law enforcement on the scene of the federal Agents murder, and fired upon at Jumping Bulls Camp. Tom boxed, partied, and lived with AIM members and others that were closely related to the people involved with wounded knee 2. This first hand resource was inspiring to me, and He encouraged me to follow my heart, research the subject and paint about that time. As I traveled with him through different saloons in the Black Hills, heard the stories, met the people involved, I wanted to record in paint some of the leaders of this movement.
I began to research in-depth the entire AIM movement, I really wanted to meet Russell Means and paint his portrait. I didn't want to paint him as an "Pop Icon" like Andy Warhol, but as a revolutionary and important leader of his people, in a traditionl portrait.
Tom and I have an American Indian Museum in Hulett Wyoming, and we started a section in our museum dedicated to AIM. As I searched out Artifacts from the time, and followed the path to finding things from the Wounded Knee takeover in 1973, I met and talked to lots of the individuals involved on both the Feds side and AIM. eventually AIM members came in to see it and shared there thoughts. It created quite a stir, and evoked many passionate conversations pro and con, depending on the person. This was very valuable in understanding the time, the struggle and what changes were made.
Russell Means as well as others in the movement, stood up for unfair racism, and abuses against Indians and made definitive stands against the tierney of the cops, government, racist judges and citizens who felt that Indians were second class. Meeting the people involved gave me a very clear view of how the events of the 70's and the American Indian Movement had a very deserved place in history of the West. Russell Means is one of a group of people who really changed the way American Indians are treated.
The Black Hills of SD/Wyo is the heart of the Lakota lands, their "sacred lands" and living there in a time that is only 100 + years after it was Indian only, gives me a very clear picture of what developments the last 100 years brought. Wounded knee in 1890, is memories of the grandparents of the people currently living on pine ridge. The stories and wounds are still felt. Even as an outsider, I run into people that share stories and have strong feelings about the entire mishandling of the Indian People.
I was very persistent, and passionate about researching and digging for info, even going to remote places in the Hills to find people involved, meet with anyone that had an opinion about what transpired and even getting my nose broke around 2008. I remember one time in 2007 breaking a guys nose in the Ponderosa Saloon because I was talking to some people about AIM and how I was very excited because I just found a 30-30 carbine used at wounded knee 1973 and how I would incorporate it in a painting. I bought the gun from a family member of the owners of the wounded knee trading post that got burned down buy AIM, and I dug it out of a trunk, in a old barn, still with the FBI tags on it from the court case. Apparently the subject is still touchy and some cowboy didn't think it was something to paint about and away we went.
If Russell was not completely appreciated in this era because the fresh feelings of those hurt by the armed rise of AIM, surely, history would hold him in high regard.
I finally tracked down Russell and shared in an e mail my desire to paint him in a traditional manner as a important historical figure. It took several years, but eventually I got an invite to come to his house and prepare for a portrait. I had to drive to his house on Pine Ridge. We talked for a few hours about politics, reservation life, and what kind of thoughts that I had for the portrait. Russell seemed worried that I wanted to put him in a war bonnet and paint him as if he was living 100 years ago. I explained how I would use imagery that was very specific to "his time." He said to me "Im a late 20th century Indian" and "that's how I want to be portrayed." I was on the same page, and incorporated the traditional vest, hair pipe choker and the watch as the description of his time. Russell grew up in a time when as a kid, they still used horse and wagons on the reservation, (he was born 1939) elders who remembered the old ways were still alive, and he had seen tremendous change from the time of the elders, to the current. He was sending a tweet out on his twitter page as we talked. He is in a Limbo of those that grew up in a time where few traditional practices were left because of the governments attempts to squelch a people and a time where some had the desire to return to the some more traditional ways. The watch and tee shirt describe how Indians are not the idea of old Hollywood westerns or to be thought of as "in the past" but a people very much of today, and with a rich history.
The L.A. Times referred to Russell Means as the most important American Indian since Crazy Horse and Sitting Bull. If your not familiar with all the things he helped change along with the other members of AIM, I highly recommend his Autobiography Where White men fear to tread. He inspired and lead people to stand up be proud to be Indian, and fought for the rights of All Indian people. After years of fighting the uphill battle of many of the injustices, and failures of the U.S. government, AIM made some strong headway to improving how Indian people are treated today. His Life is one of sacrifice, giving up freedom, personal relationships, family and selflessly fight for the rights of Indian people. although the situation still needs to be improved His efforts have had great impact for posative change.
In 1972 in Gordon Nebraska, Russell remembered how in high school he had done a report that described how the upside down flag was used by the navy as a distress signal, and in a AIM protest he decided to wear it and hang all the flags in town upside down, as AIM went there to protest the miss-handleing of the murder of an Indian, where the police were going to mearly slap the wrist of the white boy that killed him. This upside down flag left such an impression it soon became a symbol of AIM and was used everywhere they went. I said to Russell "you got approached by a woman that thought it was anti government and you explained how it was a signal of distress and that your people were in distress" I asked how he felt today…..
He looked out the window of his house at Porcupine and with a saddend voice said, "my people are still suffering." I asked if he would wear the flag for the portrait, and he agreed.
The failures of the US government have not been fully addressed or repaired, but Aim, Russell means, Dennis Banks, Clyde Bellecourt and many others started many policy's that have lead to more freedoms and sovereignty for Indian nations around the country. AIM demanded that the Us government honor, and live up to its own laws, treaties and agreements with its people.
The ideas of AIM were critical in changing the oppressive ways that were excepted in the early 1900's up until the 1970's. Russell and Aim fought then and he fights today for the government to allow the Indian people to be "free and independant, free to be responsible"
In the words of Chief Joseph, the credo of the American Indian Movement and words held dear to Russell Means,… Let me be a free man, free to travel, free to stop, free to work, free to trade were I choose, free to choose my own teachers, free to follow the religion of my fathers, free to talk , think and act for myself— and I will obey every law or submit to the penalty.
It was a highlight in my life to meet, become friends with and paint one of a few revolutionaries in US history. A true icon and leader Russell means is a person that history will hold in high regard.
All Rights Reserved to the Artist
Bob Coronato
---
2011 Rodeo Posters Available 20.00 ea.
The 2011 Belle Fourche South Dakota Rodeo poster is just in. They will be sold for 20.00 each. Artwork by Bob Coronato, the Poster was created from images origionally drawn as Chine Colle' Etchings, and then painted in mixed media on board. Find out more about the process on the Paintings page.(click here)
The Black Hills Round Up is one of the oldest rodeos in the area starting in 1918. according to some the rodeo was started in 1919 but after I found a Brochure from 1927 on ebay,…. listing the years it was performed, the real start was discovered to be in 1918.
The 92 annuel black Hills Roundup round-up Rodeo will be July 2,3,4 th and the antique style rodeo poster will be available at the rodeo as well as other locations like the Tri State Museum in Belle fourche. Other Rodeo posters will be available through my web site or the Rogues Gallery in Hulett Wyoming.
The posters are Mixed Media paintings in oil on board that were published just for the rodeo this year only.
get them while they are available, after they have sold out, they will not be re printed.
Black Hills Roundup Rodeo
The Roundup is one of the oldest continuously held outdoor rodeos in America. For five exciting days surrounding the July 4th holiday weekend, thousands of regional residents, and people from across the country and abroad, come to Belle Fourche South Dakota to celebrate. Tickets and reserved seating are available through the Belle Fourche Chamber of Commerce. Top ranked cowboys and cowgirls perform in the many events including barrel racing, bareback riding, saddle bronc riding, steer wrestling, bull riding, team roping and more. This year is 92nd Annual Black Hills Roundup PRCA Rodeo.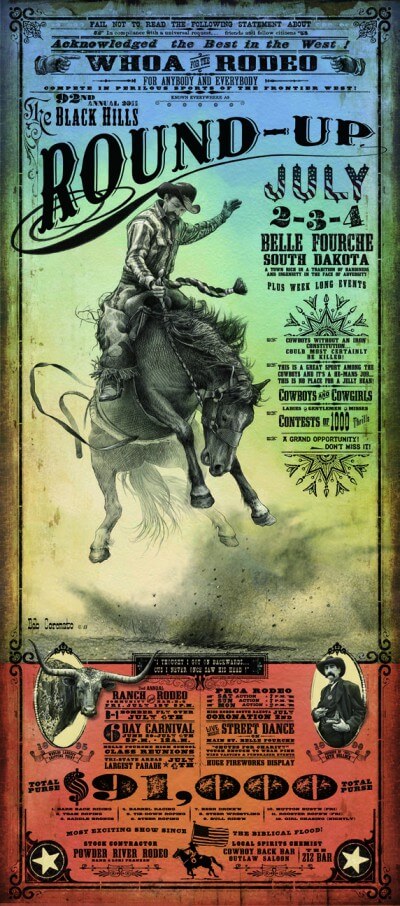 ---
Rare Jim Bridger Tintype Discovered
Rare Jim Bridger Tintype Discovered
I recently was out running around looking for Mantiques,… and found this great old tintype of a frontiersman, that looked familiar to me. On the reverse it was written Laramie Wyo, so I took it to the master,…google, and I looked up images of early important people to wyomings history.
I could not believe it, it was Jim Bridger.
There are very few examples of photos of Jim Bridger, to date there are but four.
I compared the eyes, tip of the nose and the creases on the face, using an overlay, and they matched up exact. I will have the photo on display in the museum for anyone to visit.
James "Jim" Bridger (b. March 17, 1804 in richmond Va. – d. July 17, 1881 south side Kansas City /missourri) was among the foremost mountain men, trappers, scouts and guides who explored and trapped the Western United States during the decades of 1820-1850, as well as mediating between native tribes and encroaching whites. He was of English ancestry, and his family had been in North America since the early colonial period.
Jim Bridger had a strong constitution that allowed him to survive the extreme conditions he encountered walking the Rocky Mountains from what would become southern Colorado to the Canadian border. He had conversational knowledge of French, Spanish and several native languages. He would come to know many of the major figures of the early west, including Brigham Young, Kit Carson, George Armstrong Custer, John Fremont, Joseph meek, and John sutter.
Jim Bridger was well known during his life and after-wards as a teller of tall tales. Some of Bridger's stories—about the geysers at Yellowstone, for example—proved to be true. Others were clearly intended to amuse. Thus, one of Bridger's stories involved a "petrified forest" in which there were "petrified birds" singing "petrified songs" (though he may have seen the petrified trees in the Tower Junction area of what is now Yellowstone National Park). Over the years, Bridger became so associated with the tall-tale form that many stories invented by others were attributed to him.
Supposedly one of Bridger's favorite yarns to tell to greenhorns was about being pursued by one hundred Cheyenne warriors. After being chased for several miles, Bridger found himself at the end of a box canyon, with the Indians bearing down on him. At this point, Bridger would go silent, prompting his listener to ask, "What happened then, Mr. Bridger?" Bridger would reply, "They killed me."
Read more: http://en.wikipedia.org/wiki/Jim_Bridger
---
Recently Sold Items
Some really great items were recently sold off from the Devils Tower Museum.
Devils Tower Museum is part of Rogues Gallery and every now and then, the Museum sells items off items to acuire new items for the following years display.
Once again I headed out to an art show in Tucson Arizona. The Settlers West Gallery announces its annual Great American West exhibition on Saturday, November 20, 2010. As always I like to drive and hit every Antique store and junk shop on the way looking for treasures. Lisa and I had a great time and filled half the u haul with great American Indian and Western Americana items.
We found an early pair of Apache Moccasins, a Blackfeet tobacco bag, A real nice Antique Plains Indian Ash recurve bow and other great relics. The best piece was a pretty rare antique Northwest Coast figure. I am always going through Atique stores every free chance I get, its how I get out of the studio.
---