Rogues Gallery

155 Main St., Hulett, Wyoming
Gallery: 307-467-5849
Cell: 805-400-7706
Press

Coronato was keen to chronicle the cowboy culture accurately and took a job ranching as a result. Coronato's the unofficial Leonardo da Vinci of ranching life and an astute observer of the culture.

Mark Ellwood, New York post

---

Bob Coronato Photographed for library of Congress by "Americas Photographer" Carol Highsmith 08-22-2015

Bob Coronato Photographed for library of Congress by "Americas Photographer" Carol Highsmith 08-22-2015

Library of Congress Archive Information:

Bob Coronato by Portrait of Russell Means call number LC-DIG-highsm- 34163
Bob Coronato in his Studio Call Number: LC-DIG-highsm- 34015

---

Carol Highsmith know as "Americas Photographer" as scene on television quick books commercial, comes to Hulett Wyoming Studio of Bob Coronato to take Photographs and Document the studio for the U.S. Library of Congress. 08-22-2015

---

Bob Coronato in new Jared Leto Film "Great Wide Open" Episode 5

Artist Bob Coronato in front of Rogues Gallery Hulett Wyoming

Our Good Friend and Climing Legend Frank Sanders ,...makes the cut big time!

Frank Sanders of Devils Tower Lodge

Bob Coronato in new Jared Leto Film "Great Wide Open" Episode 5

Jared Leto's new series on National Parks and Climing called Great Wide Open can be seen on you tube.
episode 5 features Independence Day and Devils tower also known as Bear Lodge.
Artist Bob Coronato of Hulett Wyoming was briefly interviewed on "The American Dream"
Although briefly appearing in the footage Bob Coronato states "I think I'm living the American Dream,….I started out pretty poor, wanted to be an artist, wanted to paint the West,…and,… I'm living it now!"

The Episode features beautiful images of Devils Tower and the surrounding area, as well as various interviews with climbers, and individuals who like the inspiration from wide open places.
Some footage was shot on the front porch of Rogues Gallery Studio of Bob Coronato in Hulett Wyoming.

Frank Sanders a friend of Bob as well as insightful character of legend makes several appearances. Frank Sanders climes Devils Tower / "Bear Lodge" and Guides climes every day. He has the record for the most climes of the "Tower" and loves to send visitors of his bed and breakfast down to Hulett to visit the Rogues Gallery and museum of American Indian Items. The Devils Tower Frontier Museum is also Rogues Gallery and the studio of Bob Coronato. The Museum features hundreds of old west frontier items from the local region. Items include old west Cowboy, American Indian as well as art, photographs and historic items from the early western frontier.
The museum has Historic items like a carbine from Battle of little Big Horn, lots of items from the 1874 Custer expedition into the Black Hills, plus numerous beaded American Indian items from the 19th century.

---

Cover and Feature in Wyoming Livestock Round Up 2016 - 2017

---

PBS - Painting and Travel with Roger and Sara Bansemer Visit Studio of Bob Coronato 2015 - 2016

Two PBS Television Specials 2015
Painting and Travel with Roger and Sara Bansemer Etching Studio tour of Bob Coronato
Painting and Travel with Roger and Sara Bansemer Tour of Devils Tower Frontier Museum "Rogues Gallery" with Bob Coronato

The Two Programs will Air on PBS Throughout the United States:
If you have not seen Roger and Saras Painting and Travel show I highly recommend it!! Fun, interesting and always educational.
Roger a great painter,and is one of the most prolific artists I have had the pleasure to meet.

---

Article in Journal of the Print World "Born on the Fourth of July" ( About the Cody Wyoming Rodeo Poster )

---
Cover of and Article in "Ranch & Reata" magazine Vol. 5.2 June/July 2015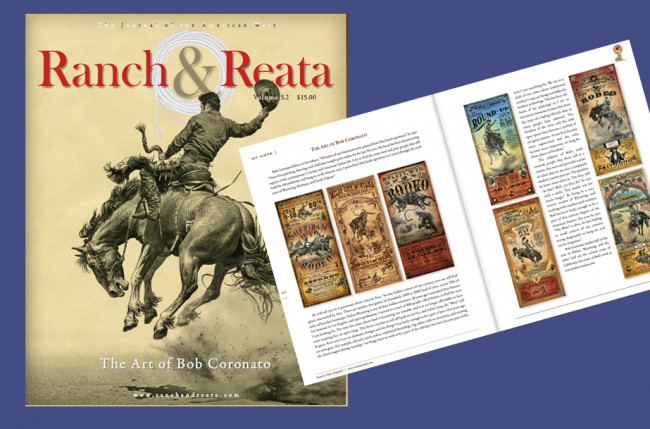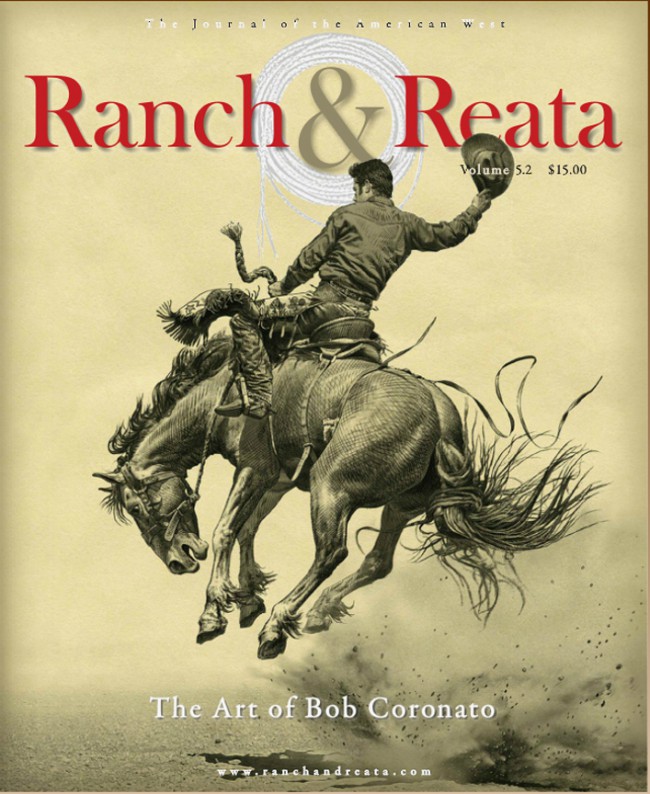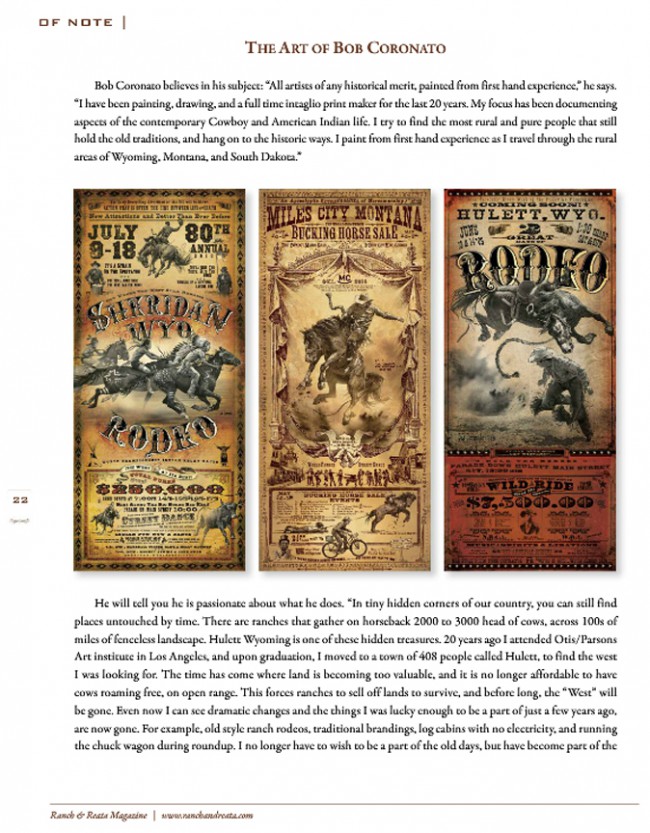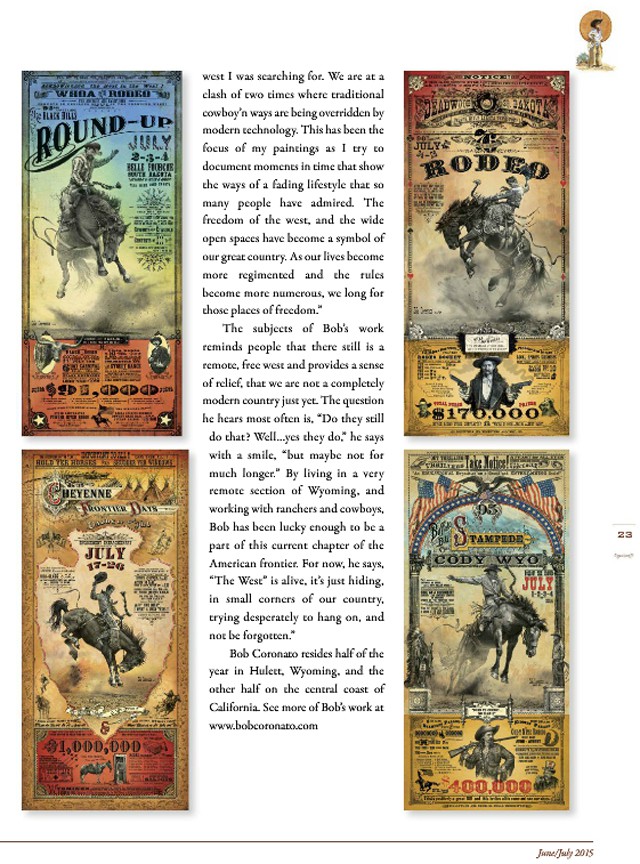 ---
Wyoming 4th Grade Art Critic
Thanks again for allowing me to show and talk about your work with so many students and educators around Wyoming! This project was one of the highlights of my career, and using your piece and seeing students' responses made it extra special. There is something magical about your Cody Stampede poster that really excited the students. I was impressed that students really understood the quality of the work, but that they also really understood the humor. As you'll see, many commented on this. You are an outstanding artist and an asset to our state. Have a wonderful summer!
-Allen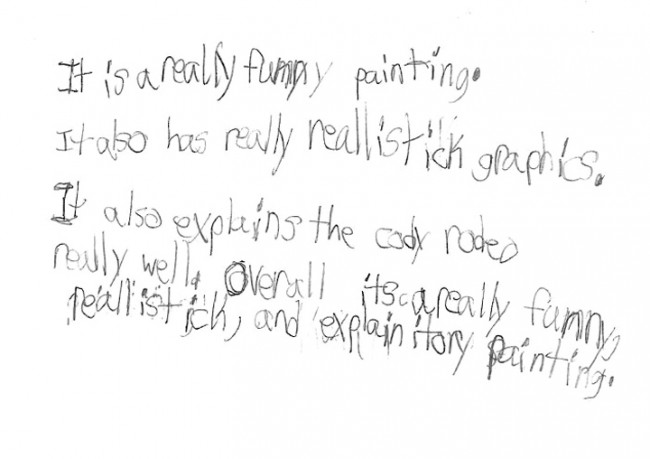 ---
POSTER COMMEMORATES BUCKING HORSE SALE
BY
Josh Samuelson
Miles City Star
Staff Writer
Fans of the World Famous Bucking Horse Sale who are looking for a souvenir other than memmories, cell phone photos – or , if you're a  contestant, a few bumps and bruises – will be able to take home a beautifully crafted poster by renowned western artist Bob Coronato. The poster , which measures 18″ wide by 38 " tall, is on sale for $20.  and is available at the Miles City Area Chamber of Commerce or online at www.buckinghorsesale.com or www.milescitychamber.com.
Coronato, from Hulett Wyo., was at the Bucking Horse Sale last year, taking in the festivities, when he ran into Chamber Executive Director and BHS  Board of Governors member John Laney. Coronato mentioned that he would like to do a commemorative poster for the Bucking Horse Sale, and after a quick Internet search, Laney and the chamber quickly agreed.
"It was probably the easiest committee i've ever worked with" Coronato said. "Usually they're hesitant and shy about what your going to do. but they were great." Coronato has done numerous posters for rodeos around the region, including Belle Fourche, S.D., Deadwood, S.D., and Sheridan, Wyo., among others. Due to the time that goes into each poster, he does just one a year.
"I want to get to all the major rodeos in the region," Coronato said. "Ive been asked to do ones around the country, but I turned them down because I want to stay in this area."
The process of putting togeather the impressive work of art starts with some studying.
"I came to the Bucking Horse last year and hung out for a few days and got the flavor of it all," Coronato said. After getting the go-ahead from Miles City, Coronato went to work on the itricate painting. The painting took nearly four months, working seven days a week from 10 in the morning until as late as five the next morning. " I'm not real fast," Coronato said. "It's a painting, and a painting in layers. It starts with a flat board, and then texture it down with modeling paste. I paint an acrylic on that and then go over it with a silk screen to get the lettering just right, and then over that with oil paint. And all of those steps take drying times and some manipulations."
The original painting that was used to create the poster stands at 59 inches tall. "This is one of my favorites," Coronato said. " The whole event is one of my favorites. It's a lifestyle, it's iconic in a way.  You're not a real bronc rider until you've done Miles City."
Laney and the chamber have been thrilled with the results of Coronato's labor. "It's a beautiful piece of art," Laney said. "It's nice to be in the mix with the rodeos that he's doing. He wants to do the big rodeos in the region, and it's cool that we got ours before Cheyenne Frontier Days got theirs."
BOB CORONATO immersed himself in the Bucking Horse Sale, then spent hours capturing its spirit in this poster.
Coronato grew up in New Jersey, but his heart was in the Old West. And after graduating from art school in Los Angeles, he moved to Hulett, Wyo., (pop. 383)
Coronato has lived in Hulett about 20 years now, but when he first moved their he quickly joined in the ranch lifestyle that would be the focus of his art. "Once I went to Hulett, I wanted to get fully embeded," Coronato said. " So i went to work on ranches, branding and trailing. I was free labor for everyone in southeastern Montana, Wyoming and South Dakota. I started out painting traditional ranching scenes, but i always wanted to do rodeo posters. I waited until it was just right. I waited to get into posters until i had enough expirience, lived long enough in the area to have it just right"
That dedication is evident in his poster for the Bucking Horse Sale. The work features scenes from throught the weekend, highlighted by a rider hanging on to a bucking horse. Ther's also a scene from the street dance, and the wild horse racer being dragged through the dirt.
The BHS Board  of Governors released a photo of the poster on facebook a few months ago, and there was immediate and overwhelming demand for the art. "it went wild," Coronato said. " People were calling constantly, and it wasn't even done yet. We saw it was on pinterest: it was everywhere."
The most interesting scene on the poster is at the bottom,  featuring an old cowboy riding a young girl's bike, a true story from Hulett. " There was a guy in Hulett who hadn't  missed a Bucking Horse Sale in something like 30 years" Coronato said. " And for whatever reasons, he didn't have  a drivers license. But he was going to get to the Bucking horse Sale, so he got on a bike and started pedaling to Miles City. He got about halfway to Alzada Mt. (30 miles from Hulett) and got picked up. He never missed a Bucking Horse Sale, and its kind of a legend in Hulett, so i had to get it on there."
Coronato will not be signing posters at the sale, choosing to enjoy the weekend in realative anonymity.  But he did sign the posters that are at the chamber.
---
Bob Coronato Etching Demonstration at Santa Barbara Historical Museum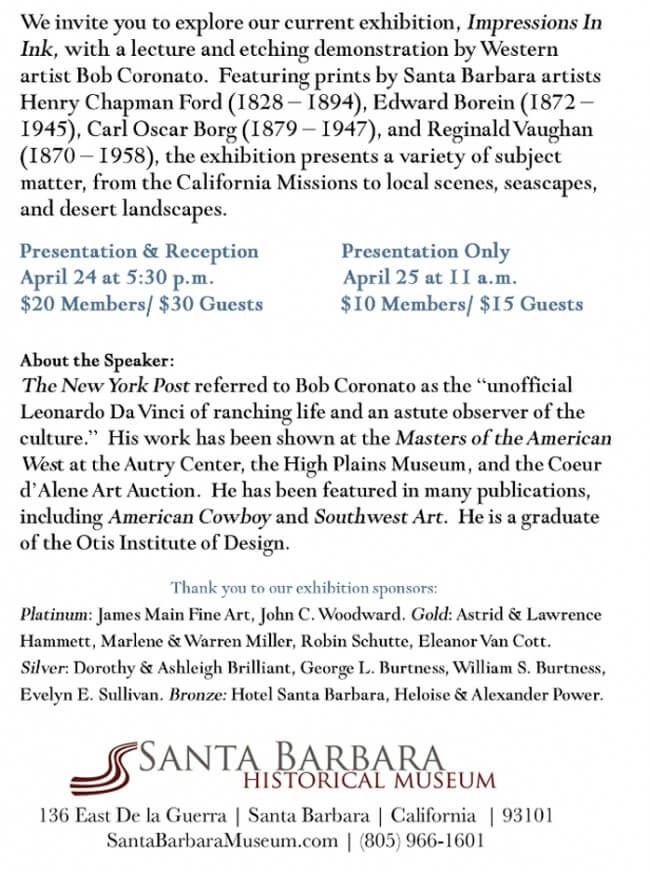 ---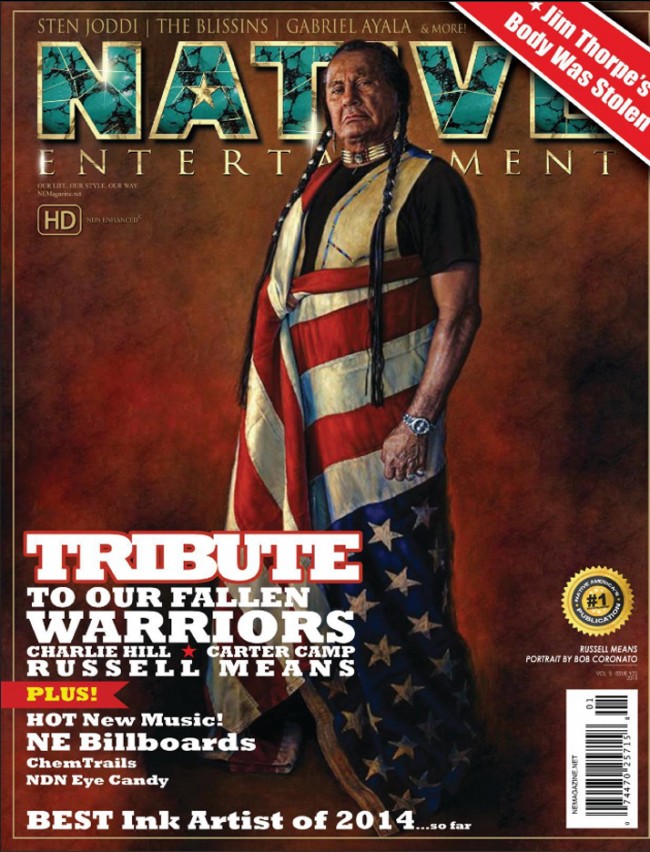 ---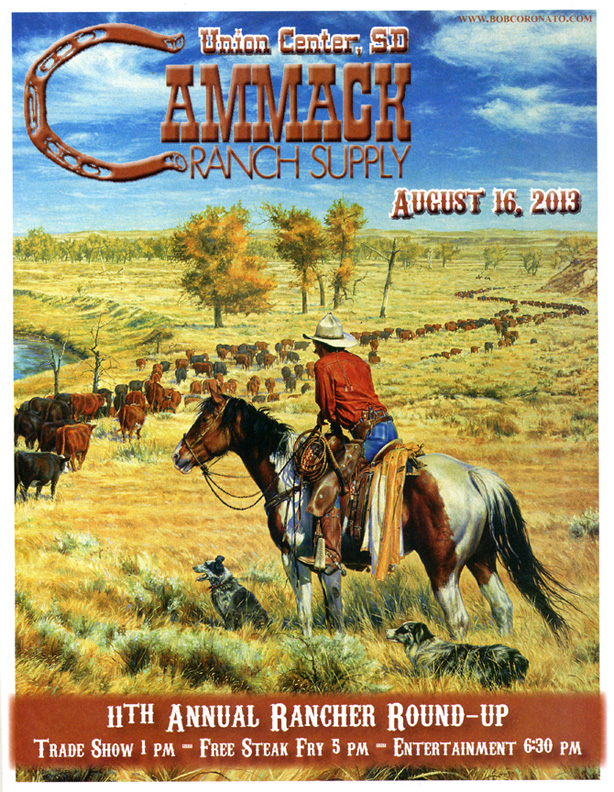 ---
As Featured on Martha Stewart "American Made" Contest
Mighty Nimble Wine by Hilary Graves
Hilary Graves, outstanding winemaker from Central Coast of California, is releasing her new wine lable, "Mighty Nimble", featuring the drawing from the chine colle' etching "I may not be much of a bronc rider,…but my get offs,…are classic"
I am honored to be a small part of her great Central Coast  Paso Robles Area wine. if you would like to try them, please contact Hilary Graves at :
HilaryGraves.wordpress.com
MightyNimble.com  (soon)
Ask For Hilary  – Cell : 805-674-1686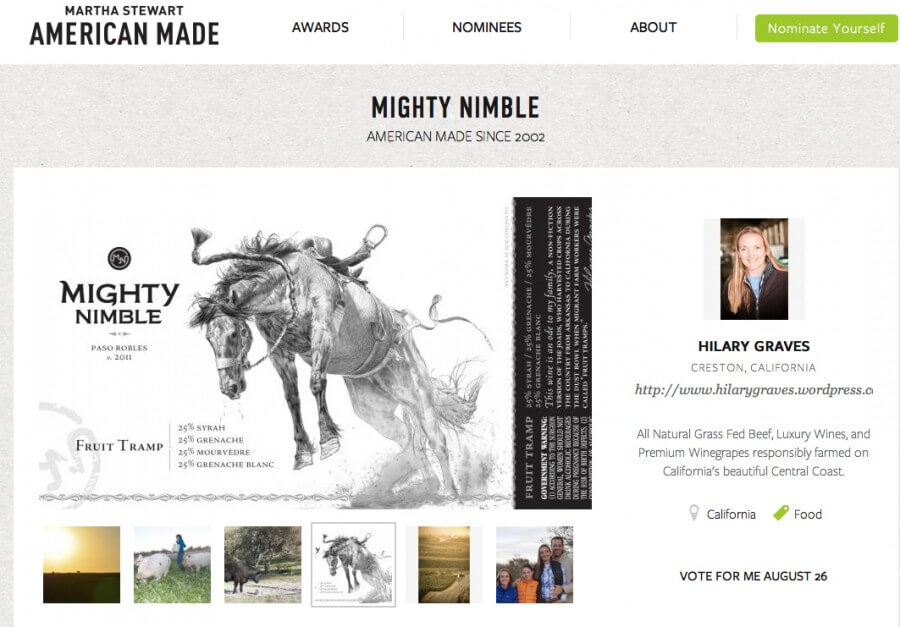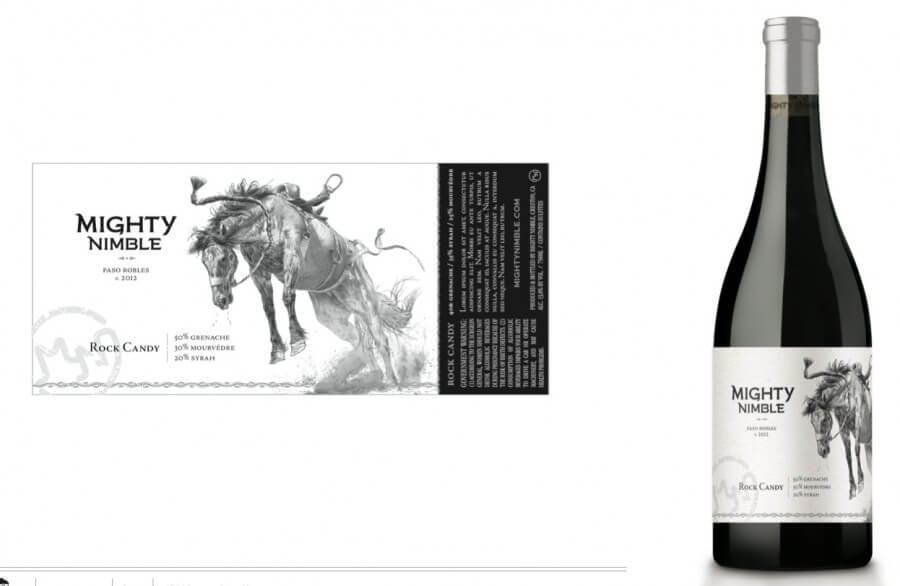 ---
Video and Interview Wyoming Arts Council
---
Cowboy Poetry Bob Coronato feature
---
German Reasearch Magazine 2013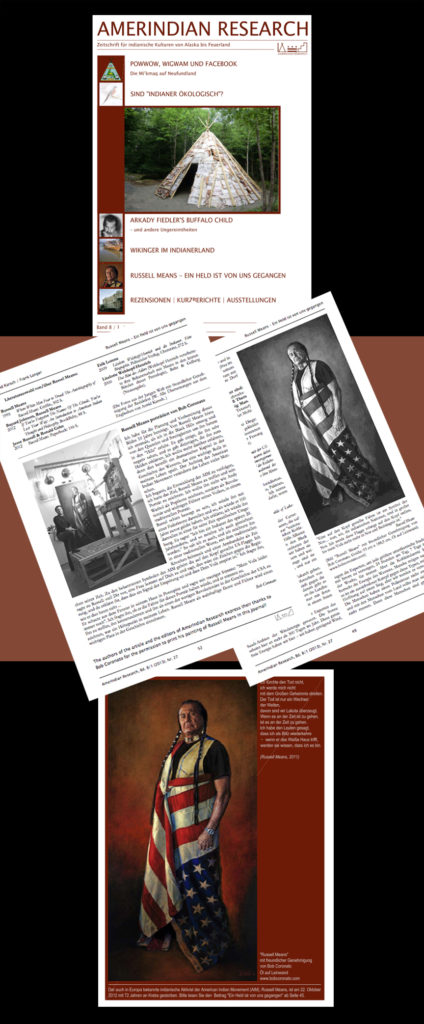 ---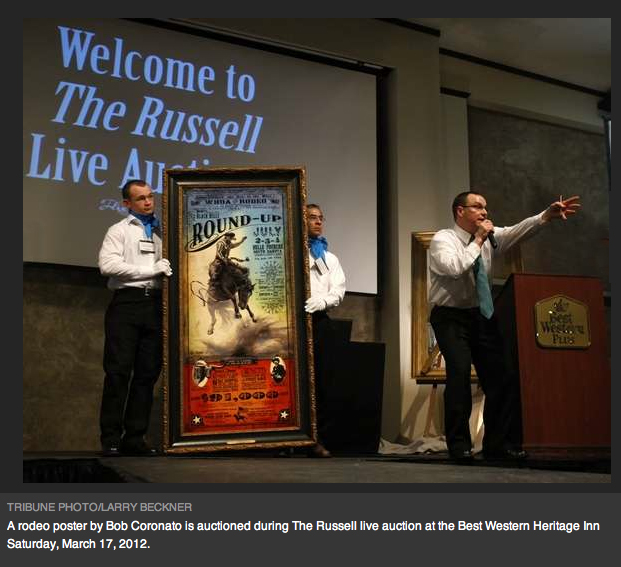 March 16-19, 2012 was the annual C.M. Russell Sale and Benefit Auction for the C.M. Russell Museum in Great Falls Montana. Coronatos piece this year is his Pittura Di Strati original mixed media, used for the 2011 Belle Fourche, South Dakota Round Up Rodeo. The Rodeo Poster piece sold for above auction estimates with the hammer price included.
(Below is clipped from an article written about this years auction in The Great Falls Tribune. Written by Richard Ecke)
"All eyes were on The Russell: the Sale to Benefit the C.M. Russell Museum live auction Saturday night to see if three original Charlie Russell watercolors would sell for $200,000 or more each.
All three did. Two Russells, "Waiting for Her Brave's Return" and "Roping a Steer," each fetched a price of $375,000, while a third Russell watercolor, "Indian on Horseback," received a high bid of $300,000 during the auction at the Heritage Inn. Combined, those three Russells produced winning bids of more than $1 million.
The Great Falls museum that bears Russell's name benefited from the sale of his works Saturday night, and officials were downright cheerful after the buying frenzy, which often was punctuated with cheers.
"This is going phenomenal," said Channing Hartelius, secretary of the Russell Museum's board of directors.
Bidders also went wild for other Russell originals. "The Bucker," part of a group of Renner family estate offerings that also included one of the $375,000 pieces, sold for $60,000. Then the buyer agreed to donate the watercolor to the Russell Museum, board Chairman Joe A. Masterson said.
In addition, a watercolor and pen-and-ink called "Center-Fire Man on a Bronc," estimated to sell for up to $45,000, instead went for a whopping $170,000 to the Smith's Fork Land & Cattle Co. of Robertson in southwest Wyoming. Other buyers of big Russell pieces declined to be named.
"It was absolutely a wonderful tribute to (Russell expert) Ginger (Renner)," Masterson said of the sale of the Renner estate pieces. "A Bunch of Riders," a pen and ink also among the Renner items, sold for $100,000 — double the pre-auction estimate.
Gross sales from Saturday night's nonprofit museum auction were in the $2.75 million range. This preliminary auction total does not include the 10 to 13 percent buyer's premium, which should push the total over $3 million.
The Paddle Raise for Education netted $150,000, 100 percent of which goes to Russell education efforts.
It was hard to find anything to be disappointed about during the Saturday night money-maker for the museum — and officials were beaming, even if they were exhausted by all the preparations and the hectic nature of the event.
"The market's up," auctioneer Troy Black said at the beginning of the night. "There's a good buzz in town."
He was right.
---